Climb Elbrus with our guides
[vc_row][vc_column][vc_raw_js]JTNDc2NyaXB0JTIwdHlwZSUzRCUyMnRleHQlMkZqYXZhc2NyaXB0JTIyJTNFJTI4ZnVuY3Rpb24lMjglMjklMjAlN0IlMEElMjAlMDklMjAlMDklMjBpZiUyMCUyOHdpbmRvdy5wbHVzbyUyOWlmJTIwJTI4dHlwZW9mJTIwd2luZG93LnBsdXNvLnN0YXJ0JTIwJTNEJTNEJTIwJTIyZnVuY3Rpb24lMjIlMjklMjByZXR1cm4lM0IlMEElMjAlMDklMjAlMDklMjBpZiUyMCUyOHdpbmRvdy5pZnBsdXNvJTNEJTNEdW5kZWZpbmVkJTI5JTIwJTdCJTIwd2luZG93LmlmcGx1c28lMjAlM0QlMjAxJTNCJTBBJTIwJTA5JTIwJTA5JTIwdmFyJTIwZCUyMCUzRCUyMGRvY3VtZW50JTJDJTIwcyUyMCUzRCUyMGQuY3JlYXRlRWxlbWVudCUyOCUyN3NjcmlwdCUyNyUyOSUyQyUyMGclMjAlM0QlMjAlMjdnZXRFbGVtZW50c0J5VGFnTmFtZSUyNyUzQiUwQSUyMCUwOSUyMCUwOSUyMHMudHlwZSUyMCUzRCUyMCUyN3RleHQlMkZqYXZhc2NyaXB0JTI3JTNCJTIwcy5jaGFyc2V0JTNEJTI3VVRGLTglMjclM0IlMjBzLmFzeW5jJTIwJTNEJTIwdHJ1ZSUzQiUwQSUyMCUwOSUyMCUwOSUyMHMuc3JjJTIwJTNEJTIwJTI4JTI3aHR0cHMlM0ElMjclMjAlM0QlM0QlMjB3aW5kb3cubG9jYXRpb24ucHJvdG9jb2wlMjAlM0YlMjAlMjdodHRwcyUyNyUyMCUzQSUyMCUyN2h0dHAlMjclMjklMjAlMkIlMjAlMjclM0ElMkYlMkZzaGFyZS5wbHVzby5ydSUyRnBsdXNvLWxpa2UuanMlMjclM0IlMEElMjAlMDklMjAlMDklMjB2YXIlMjBoJTNEZCU1QmclNUQlMjglMjdib2R5JTI3JTI5JTVCMCU1RCUzQiUwQSUyMCUwOSUyMCUwOSUyMGguYXBwZW5kQ2hpbGQlMjhzJTI5JTNCJTBBJTIwJTA5JTIwJTA5JTIwJTdEJTdEJTI5JTI4JTI5JTNCJTNDJTJGc2NyaXB0JTNFJTBB[/vc_raw_js][vc_raw_html]JTIwJTA5JTIwJTA5JTNDZGl2JTIwY2xhc3MlM0QlMjJwbHVzbyUyMiUyMGRhdGEtYmFja2dyb3VuZCUzRCUyMnRyYW5zcGFyZW50JTIyJTIwZGF0YS1vcHRpb25zJTNEJTIyYmlnJTJDc3F1YXJlJTJDbGluZSUyQ2hvcml6b250YWwlMkNub2NvdW50ZXIlMkN0aGVtZSUzRDA0JTIyJTIwZGF0YS1zZXJ2aWNlcyUzRCUyMnZrb250YWt0ZSUyQ2ZhY2Vib29rJTJDb2Rub2tsYXNzbmlraSUyQ3R3aXR0ZXIlMkNnb29nbGUlMkNtb2ltaXIlMkNlbWFpbCUyQ3ByaW50JTIyJTNFJTNDJTJGZGl2JTNF[/vc_raw_html]
By Artem Kuimov

[vc_column_text]Quadascent-2016 was accomplished with a bunch of records:
– Record of Russia
– Record of Europe
– World Record of Guinness Book!!!
It was the first quad to summit Elbrus; the first quad to drive as high as 5,642 m / 18,510 ft!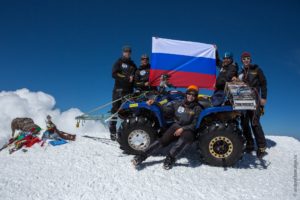 Participating in this quadascent were:
Artyom Kuimov, author of the idea, expedition leader and quad driver
Sergey Baranov, developer of the project's climbing program, director of Mountain Guide company
Inna Martyanova, second driver
Aznor Khadjiev and Islam Glashev, employers of "Elbrus PSO", climbers
Alexander Khoroshailov, climber
Andrey Chumakov and Alexander Ryazanov,cameramen;
Semyon Natoreev and Vladislav Chebyshev, technical assistants.
It wasn't our first attempt of climbing by a quad to the summit of the highest peak in Europe. In 2014, supported by Chambers of commerce and industry of Moscow region and Kabardino-Balkaria, we attempted to make a quadascent of Elbrus. And even though we were much encouraged by state officials who organized a party with much fanfare, we failed to make it to the very summit due to circumstances beyond our control – we managed to get only as high as 5,150 m/ 16,896 ft, setting records of Russia and Europe.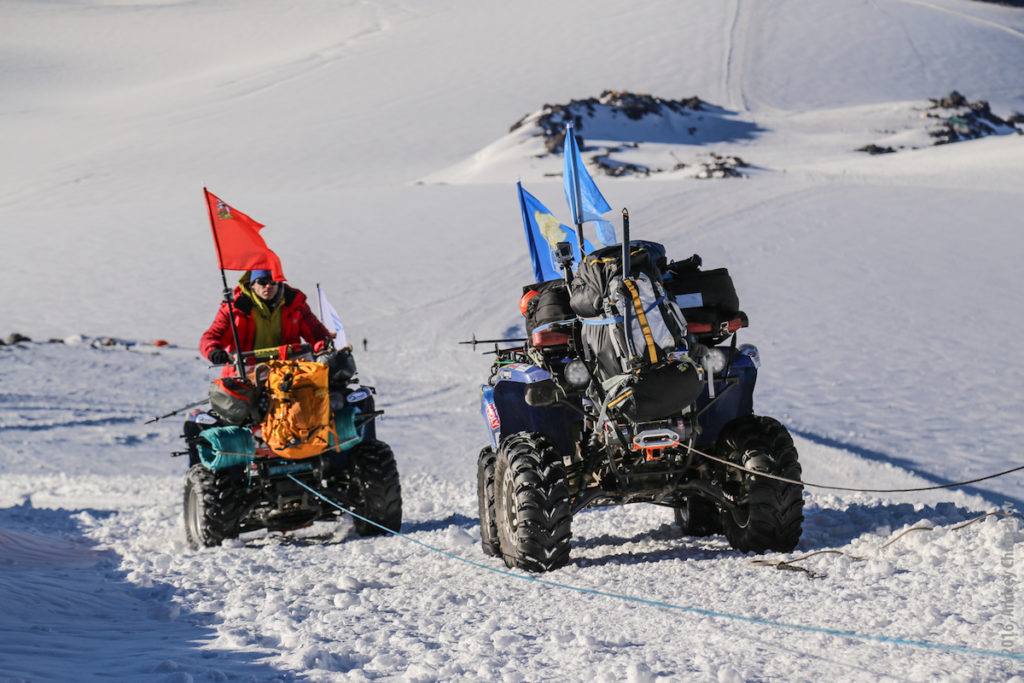 At that time we went back home with the promise to be back…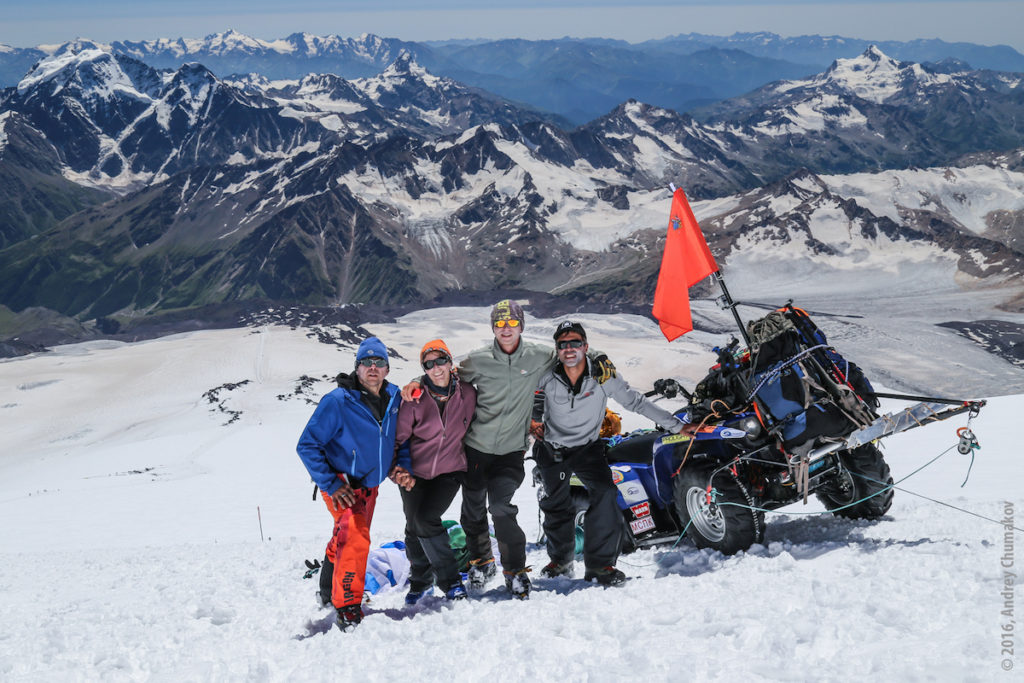 This time we decided that true heroes should be modest and shouldn't boast about an achievement they are about to make. And we decided not to make our plans public, not to take out our quad from van before its due time, and not to tell anything about our intentions on the mountain. And when asked by curious tourists what our logos of Elbrus Freshness meant, we would say that we were shooting a film on ecology and bring up our cameras…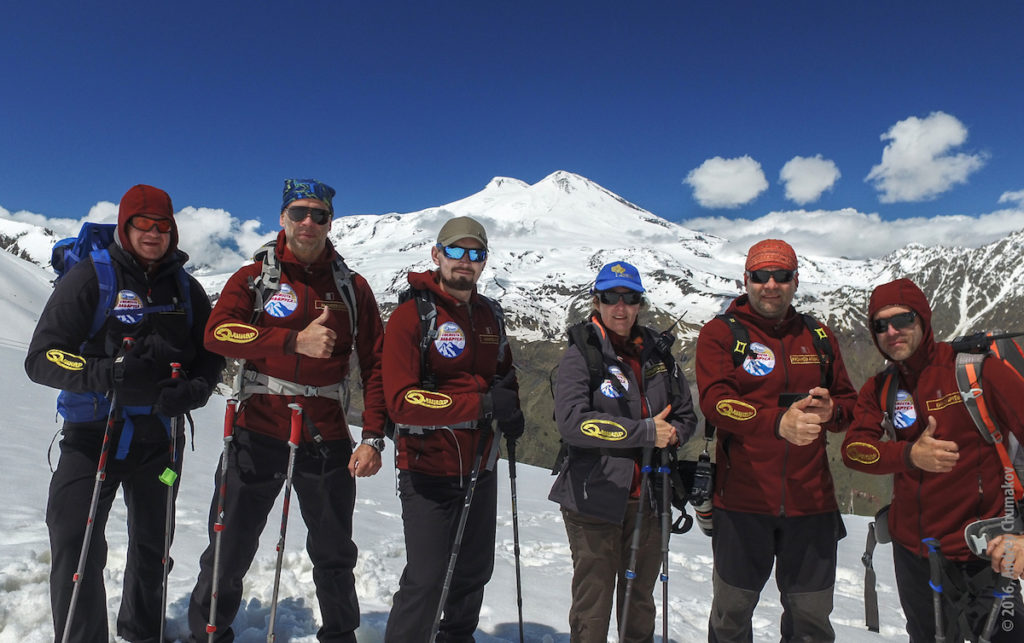 We learned lessons from our 2014 failure – all technical aspects and loose ends. I plunged so deeply into the project that were spending days and nights in my garage inventing and designing – to the extent that my children thought that their dad had left for his expedition four months earlier.
No sooner have I begun preparing for the attempt than I realized that I overestimated my capabilities. Besides gathering my own gear, I also undertook the responsibility of arranging for accommodation of our group members, for selecting and buying equipment and clothing, for preparing the quad and getting permits from state authorities for our ascent.
Ilya helped me to rebuild the vehicle's engine at Quadbase repair shop, and the running gear I brutalized myself. And brutalizing it really was since I did just the opposite of what was designed by manufacturer. The hell with shock absorbers! Clearance brought to minimum but with possibility of right and left alignment error. And I loaded rear wheels with 100-meter of 5mm pulling rope on steel drums.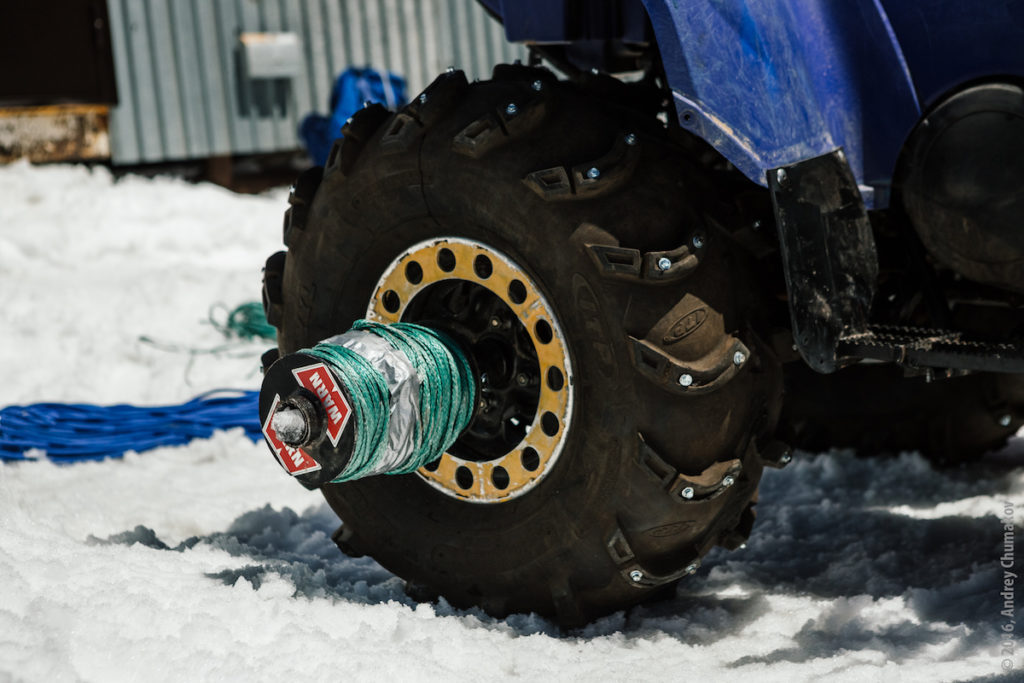 Plastic foot boards wouldn't endure crampons and I removed then with steel ones.
In steering section I added a second gas trigger on the left side, an additional starter button and a couple of snap switches on Prolight working lamps.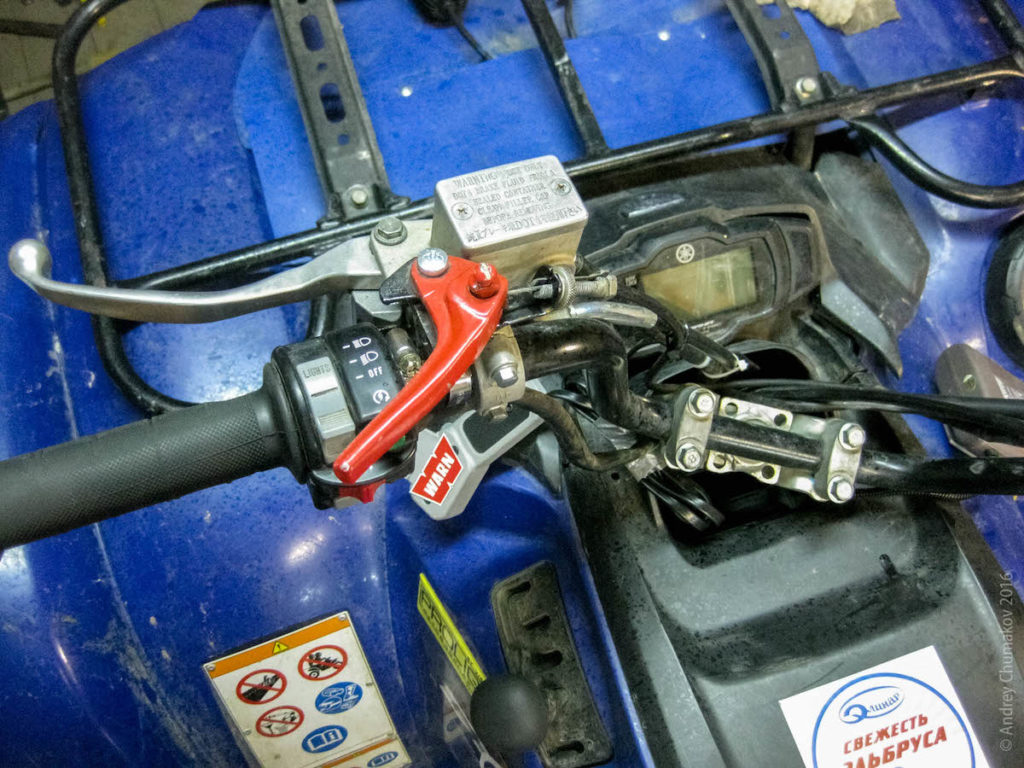 Last time we used a Warn drawing machine with a one-off drum for 50 m pulling rope, but it proved to be inconvenient and unhandy. This time we took three Warn drawing machines for the quad – 15 m each for the total of 3,500 lb and one for a Snowcat (just in case) for the total of 1,500 lb. We made a special "beak" on our Smiley's bumper so that safety and pulling ropes wouldn't be in my or in each other's way. The design was weird but quite useful…
Recalling how easily the drawing machine was tearing out aluminum pales out of the snow, I realized that I should think of something more reliable. And this "something" should stay hold on both in melting snow, firn (no matter how deep) and on an icy surface. The constructions I made looked anything but elegant and we called them Monster pales.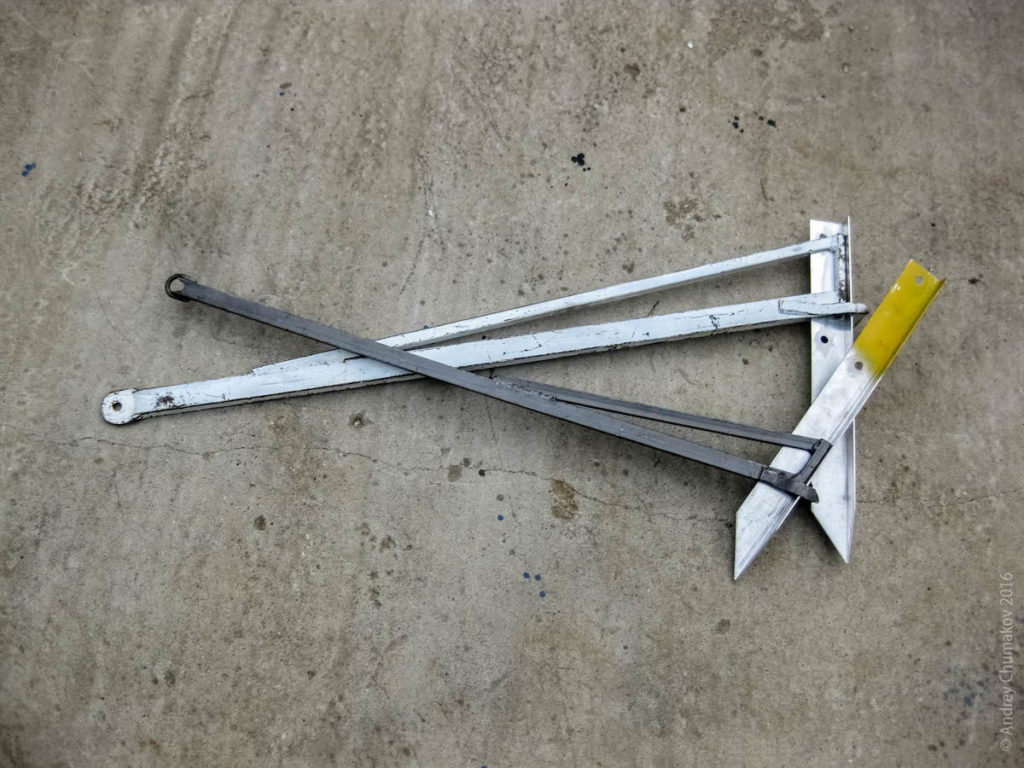 It is a tradition with quad drivers– even if you've had half a year to get ready for an ascent, at the end of this period you are short of just one more day. All the experimental devices we made proved to be useless even though we spent hell of a lot of time, money and work on it…
On the last day, after I realized that I can fail to meet the deadline of out start, I gathered everyone in my garage and distributed the remaining task between them.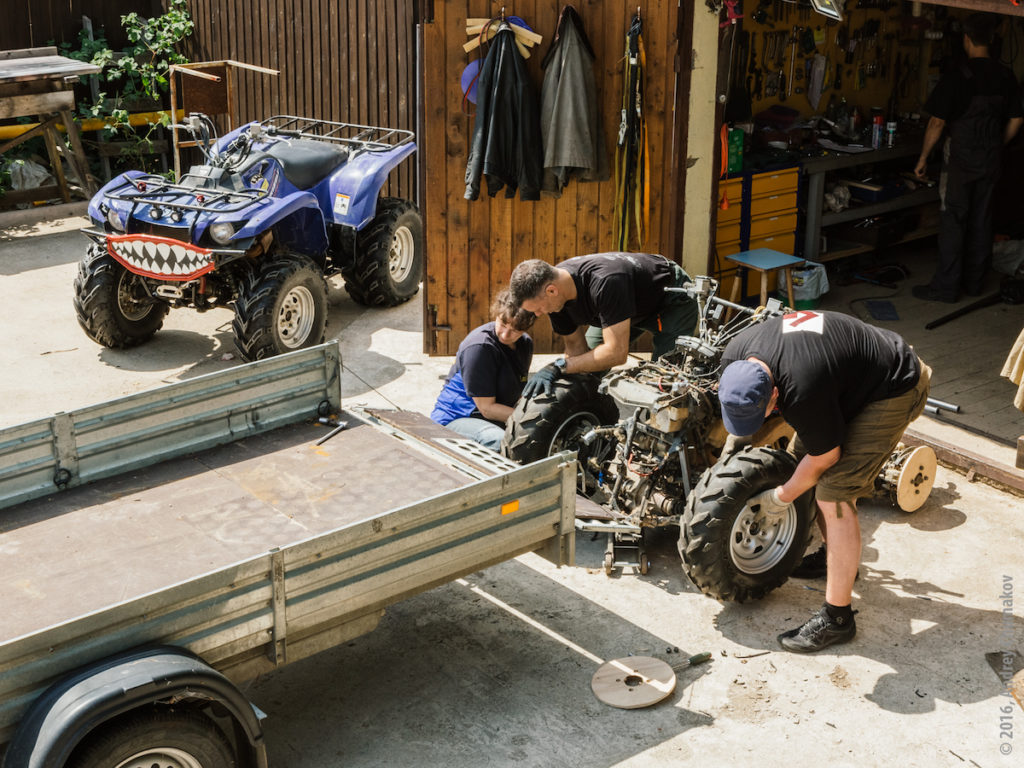 We placed out quad on the roof of a Navara truck.
The members of our quadriascent team were loading cars, adjusting antiskid chains, spiking tires with roofing screws and painting newly-welded details, and I was feeling absolutely happy looking at them. This is what I call an effective management.
After a 24-hour ride we got to Mt. Elbrus foothill.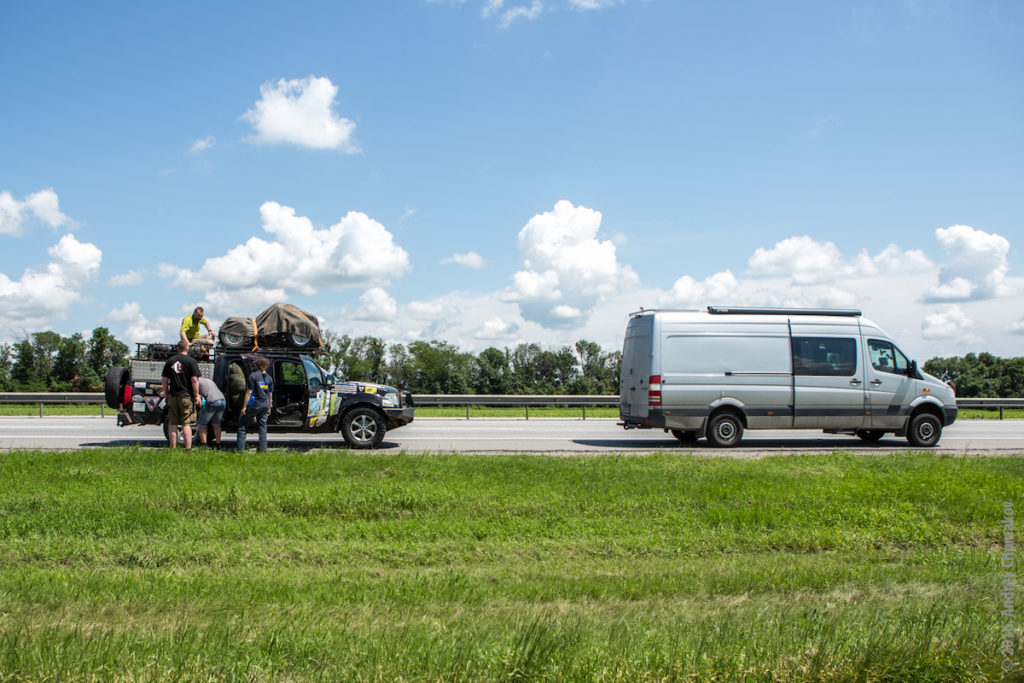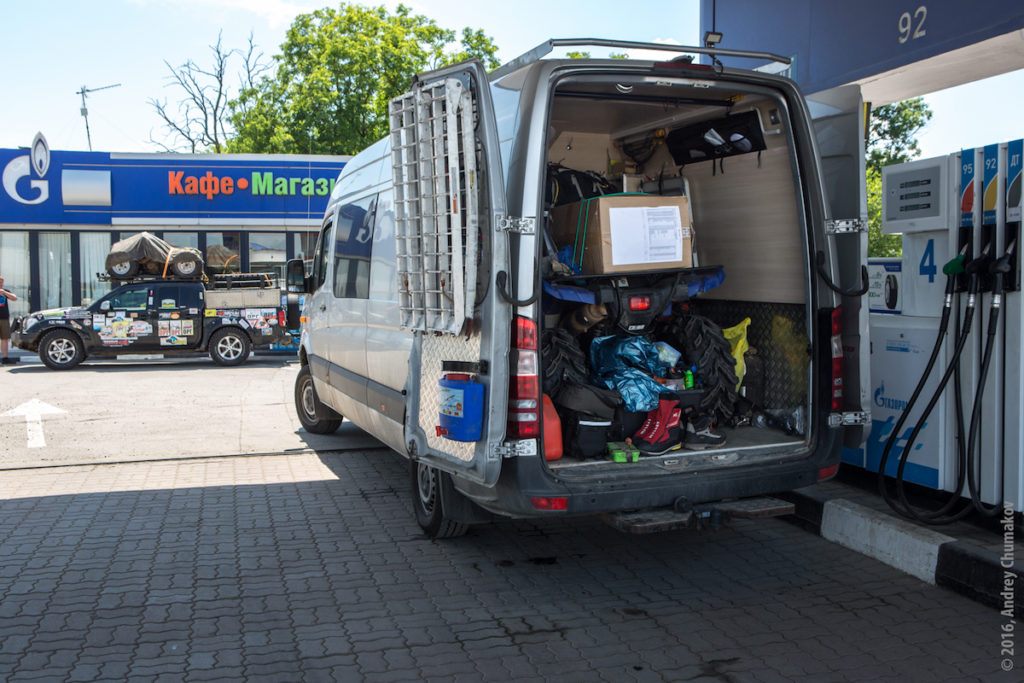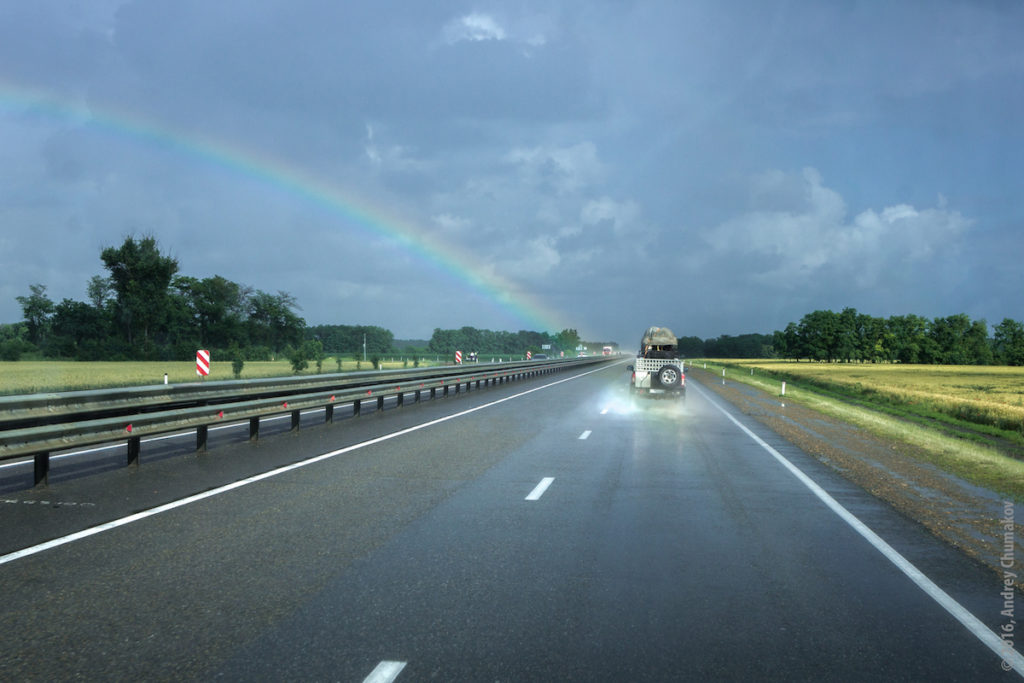 I don't remember who the first one was to offer a drink for the beginning of our trip, but this small celebration determined our next day – our acclimatization hike to Cheget was nothing like vigorous or athletic…
Next morning, our chief climber arrived, Sergey Baranov, and our amateur performance came to an end. We took a vigorous pace to hike way up to the Observatory (at an elevation of about 3,000 m / 9,843 ft). At Maid's Braids waterfall a tourist with a ten-meter long selfie stick greeted us cheerfully, recognizing my company's logo Elinar.
Since we had no clear-cut plan, we were planning our each next day basing on current circumstances. Everyone in the group was acclimatizing differently:  Inna and I were acclimatizing well while the rest of the team were somewhere between mild headaches and complete prostration. But they say it is normal…
Getting higher and higher every day, we were evaluating the trail we were to pass and realizing that there was more snow on Mt Elbrus than in 2014. The sections that we drove over easily two years ago, we would have to invest some very serious effort to pass this time.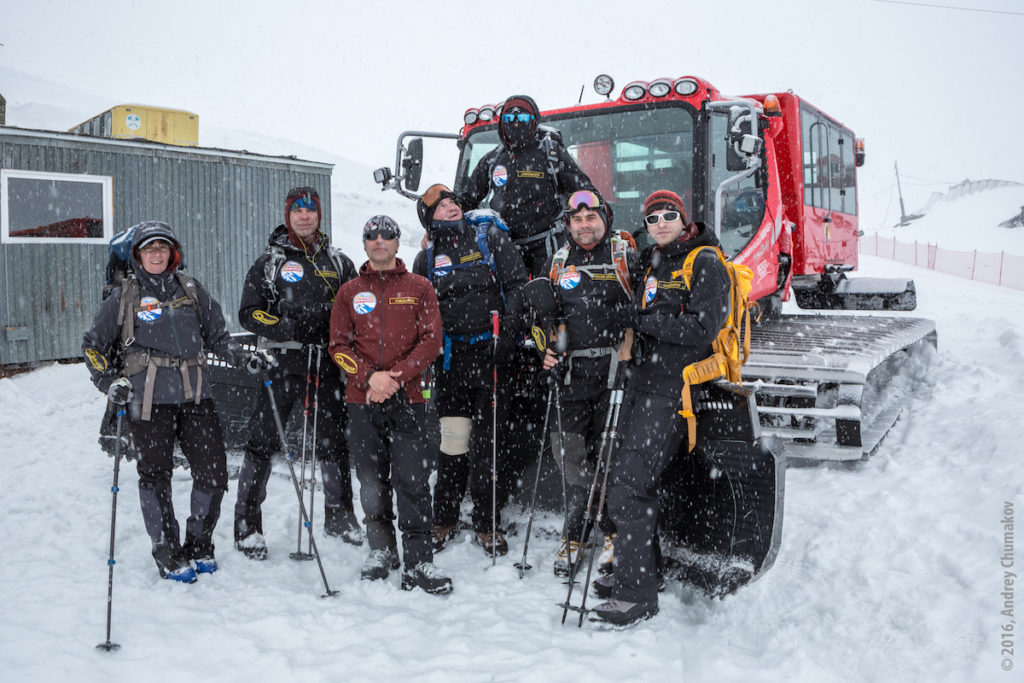 Upon getting to the elevation of 4,800 m/15,748 ft and seeing the snow there we realized that we were definitely going to be short of the Monster pales I made in my garage. We had to join them into stations with a high risk of destroying them any moment. Besides, we also realized that we left behind one of the drums. Of course we could find the guilty party right away and through him down into a crevasse but it wouldn't help us to get the so-much-needed gear.
We decided to go to Nalchik and try to manufacture some at a repair shop there. Having no technical drawings I tried to explain in lay terms to guys there what exactly I needed. First everyone thought we were nuts but suddenly I got an idea. I brought the label of our expedition and drew on it what it was that I needed.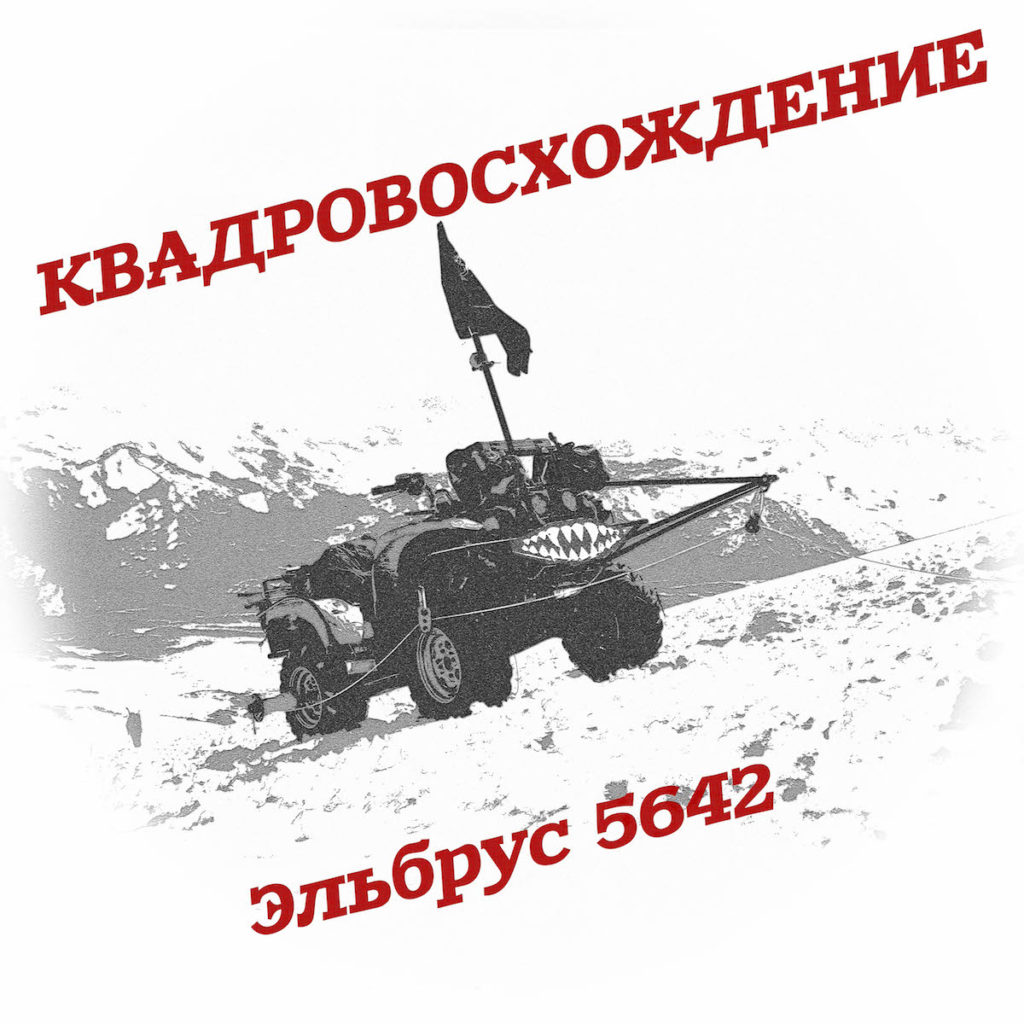 When told that I was about to set a record, the repair shop foreman, Denis, and welder, Oleg, put away whatever they were doing and helped me with great excitement – and absolutely free of charge.
As a result, the Mosnter pales and drum they made were even better than those I made in the garage…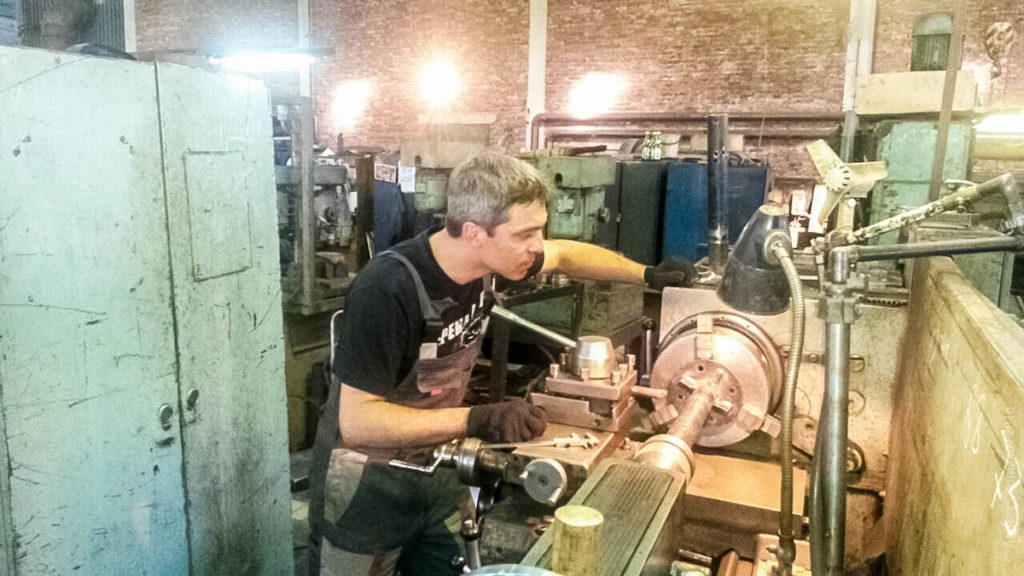 And finally the long-awaited day arrived when Sergey announced that our acclimatization is sufficient for our stay at Bochki refuge at the altitude of 3,800 m / 12,467 ft. (Or maybe he simply got sick and tired of leading our herd up and down hills and he decided to see what we were capable of. Generally speaking, he would "taunt" us a lot and with great pleasure… We even thought that as a child his parents must have left him behind, in mountains, and ever since he has an ever-lasting acclimatization and immune resistance to acute mountain sickness.)
On that same day all spare parts, Monster pales, ropes and the rest of the gear was packed into boxes and taken on the lift to Bochki and put into one of the barrels there.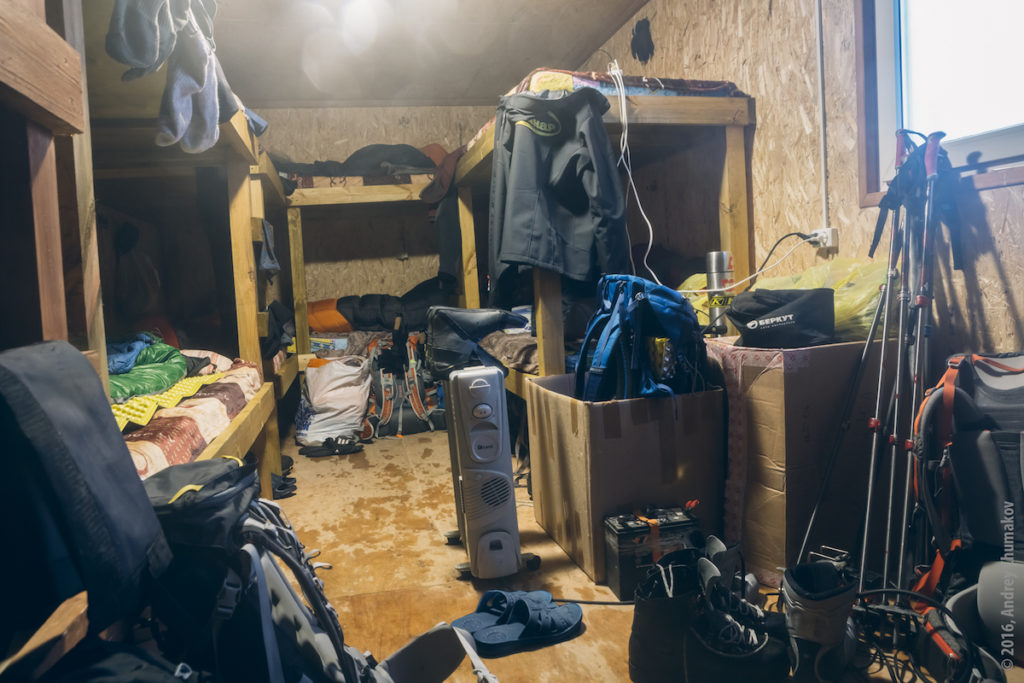 My quad ascent was scheduled for the nearest night and so we were waiting for the temperature to fall in order for the soft, melted snow to freeze and become easier to pass.
Day 1 of our Elbrus ascent passed in the atmosphere of complete secrecy. We started in darkness, there were no ads and labels on Smiley, and I was wearing a Federal Rescue Service parka. Following the trail familiar from 2014 I passed all rocky screes from Azau valley, and after getting to the section with frozen snow in half an hour, I made it to an elevation of 3,800 m/ 9,843 ft!  We decided not to venture to get higher on that day, and we immediately hid the qaud covered by a hood behind the barrels.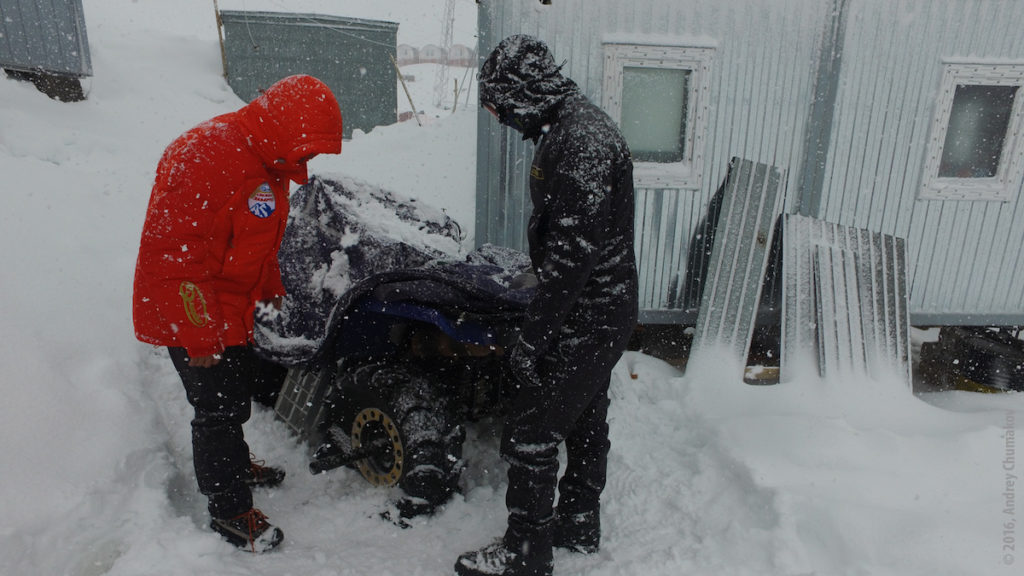 On Day 2 we started by 5 AM for the snow to be still solid. I was riding in the head, sticking to our conspiracy plan – with no logos and in a Federal Rescue Service parka, with quadascenders and equipment following on some distance on a Snowcat.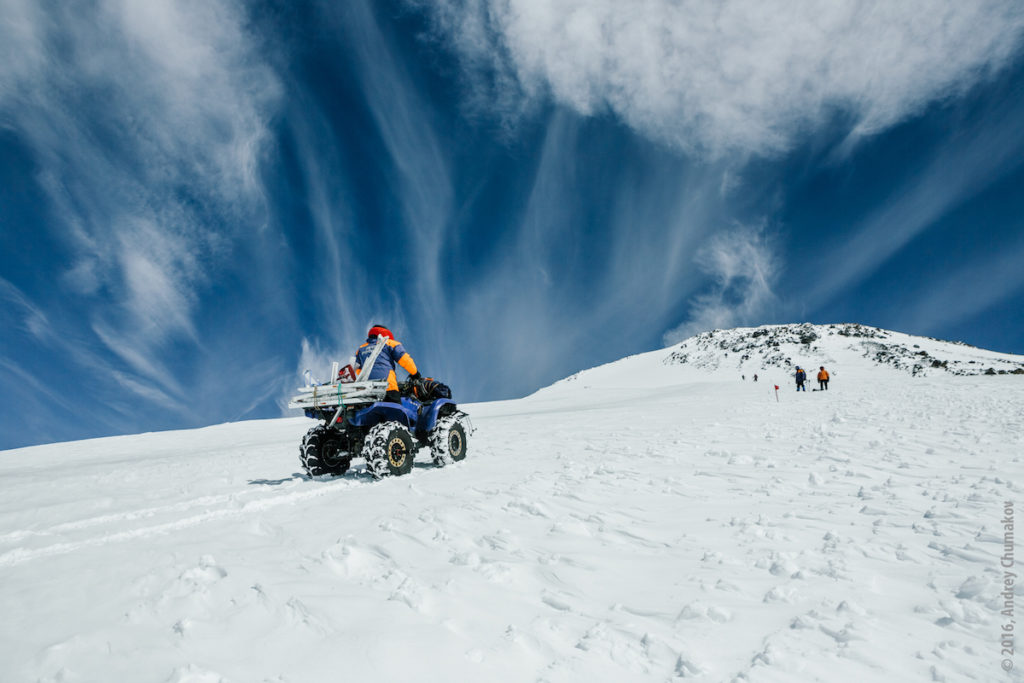 A couple of times the quadricycle got stuck in the snow and I had to reel back and to choose another path or to gather more speed. Anyway, we made it to the top of Pastukhov's Rocks (4,750 m / 15,584 ft) pretty quickly. After that true mountain climbing began.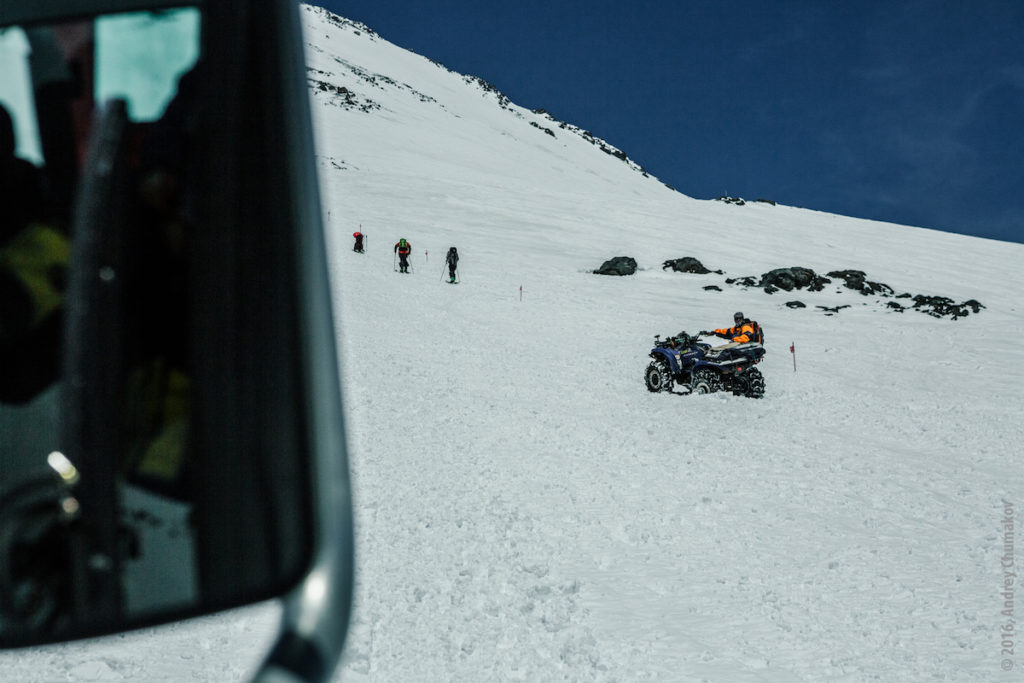 That section of the route was covered by newly fallen snow that was impossible to pass on quad – it would only bury into it and wouldn't override it at all. We were digging and pulling for about six hours. With immense efforts we managed to get the quad to the elevation of 5,050 m / 16,568 ft only to find out that tire on one of its rear wheels got loose.
Since assembling a wheel in the conditions of cold and wind was beyond my abilities, we took the wheel off the quadricycle, took all that on Snowcat back down and to our refuge. It took us several hours of witchcraft in the evening to set the tire back.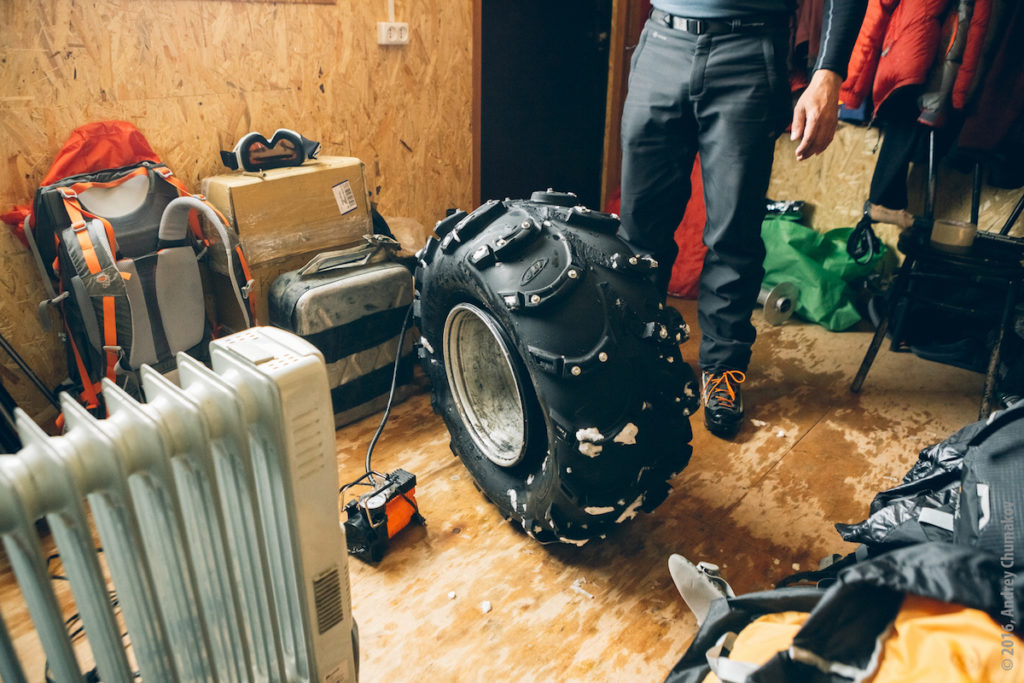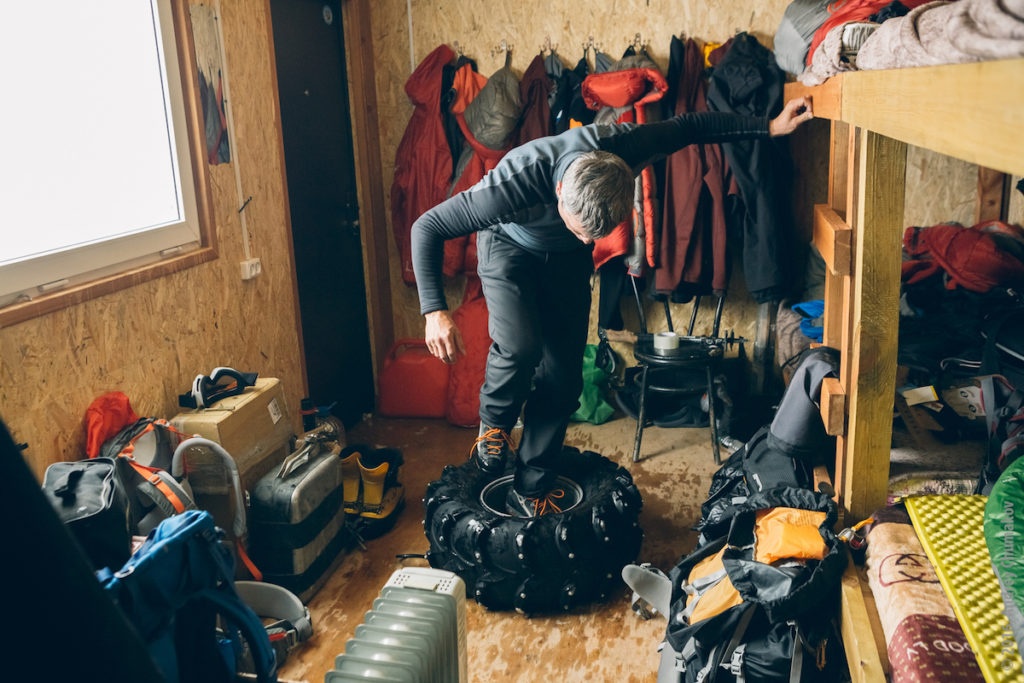 On Day 3 of our quadascent we experienced Elbrus's nasty nature.  In the morning, for an hour, we were rushing packing and pumping gas. And while we were doing all that, the summit got covered with clouds and it started snowing. We thought that it would get better, but we were wrong…
Having realized that on that altitude and in such weather nobody would bother us with their curiosity, we decided to put aside secrecy. So, cheering up each other, we stuck logos on the quad and started.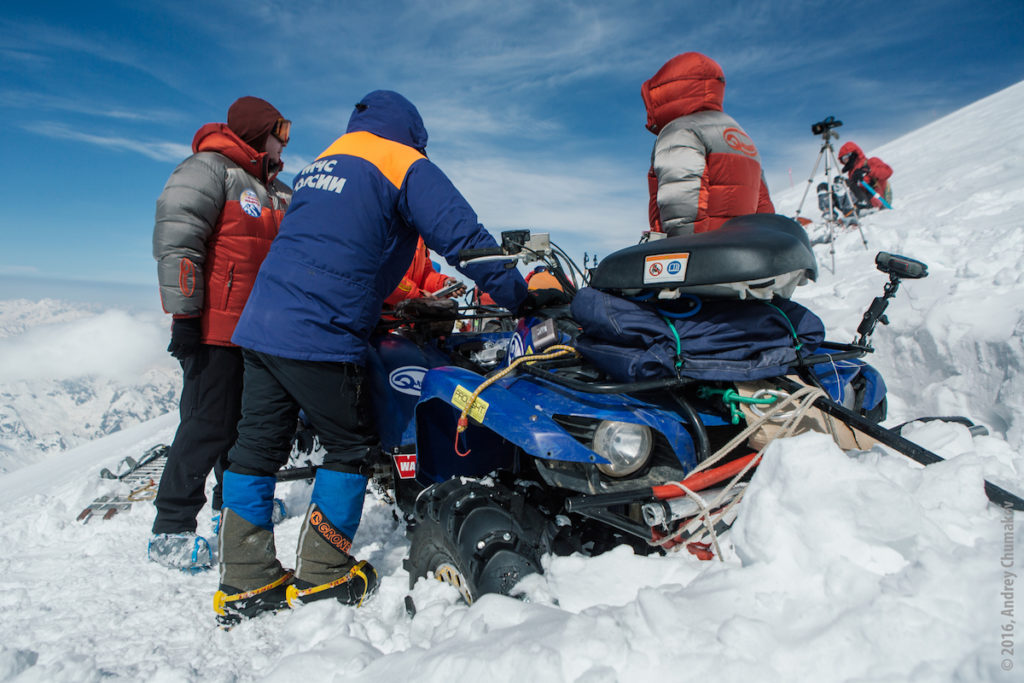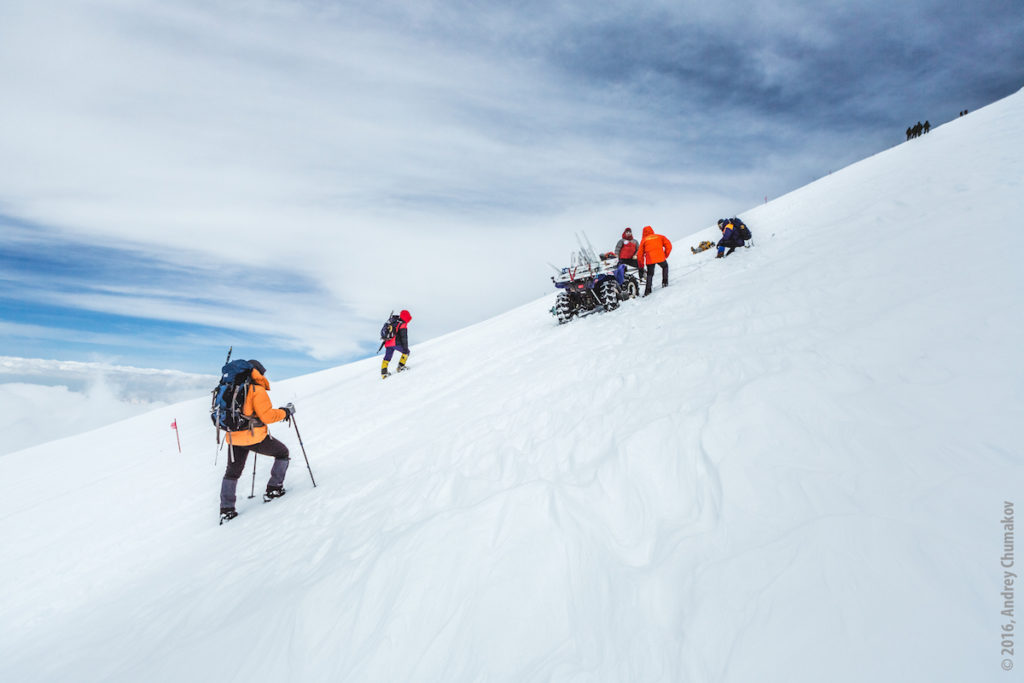 We were moving very slowly forward and up a steep trail. The ascent was complicated by a side tilt and the quad would constantly roll aside towards glacier with crevasses famous for numerous fatalities it caused. A couple of times the real wheels slipped off the trail and it was only due to belay that we didn't become another victim of that glacier.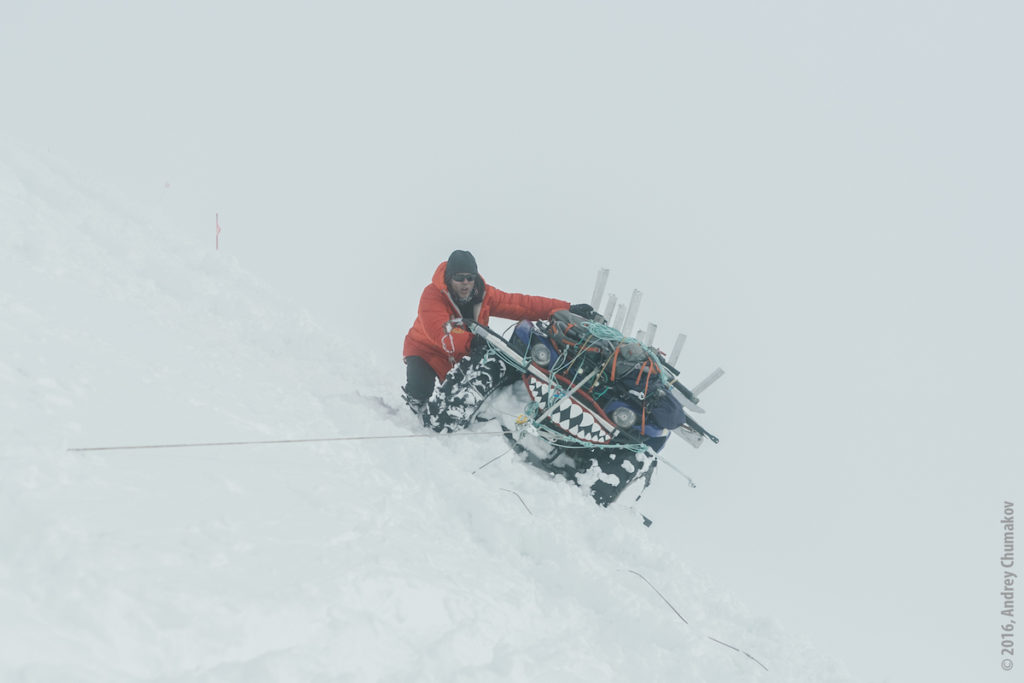 Guided by the principle "fight fire with fire", I turned on active suspension that gave a right-side tilt to the vehicle and helped me to pass the trail's tilt.
There were sections where the quad went on its own, supported just by a side-drift belay, and sometimes we had to use drawing machines or drums. Here is how we did it: ahead up the slope we would dig a lengthwise hole, put a Monster pale into it and ding in an aluminum pole through it to get a better adhesion with the snow. Sometimes we would connect a few Monster pales into a station.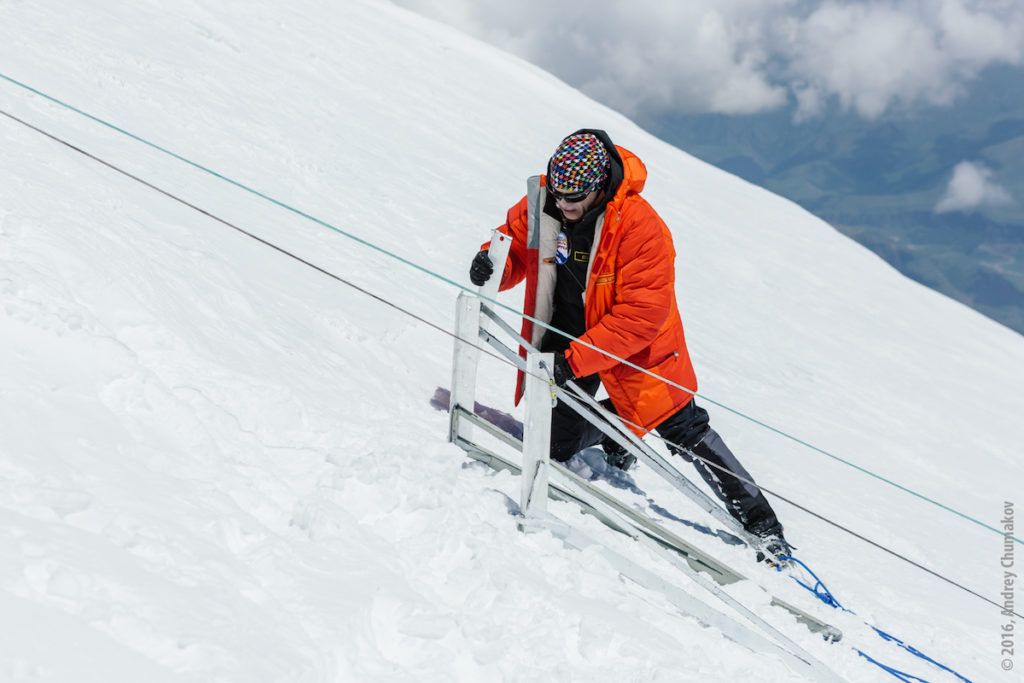 Once we got distracted and confused the succession of belays' pull-up and the "beak" deformed. What we did was to adjust a drawing out fixture made of ropes and reinforced Scotch tape and went on with our mission.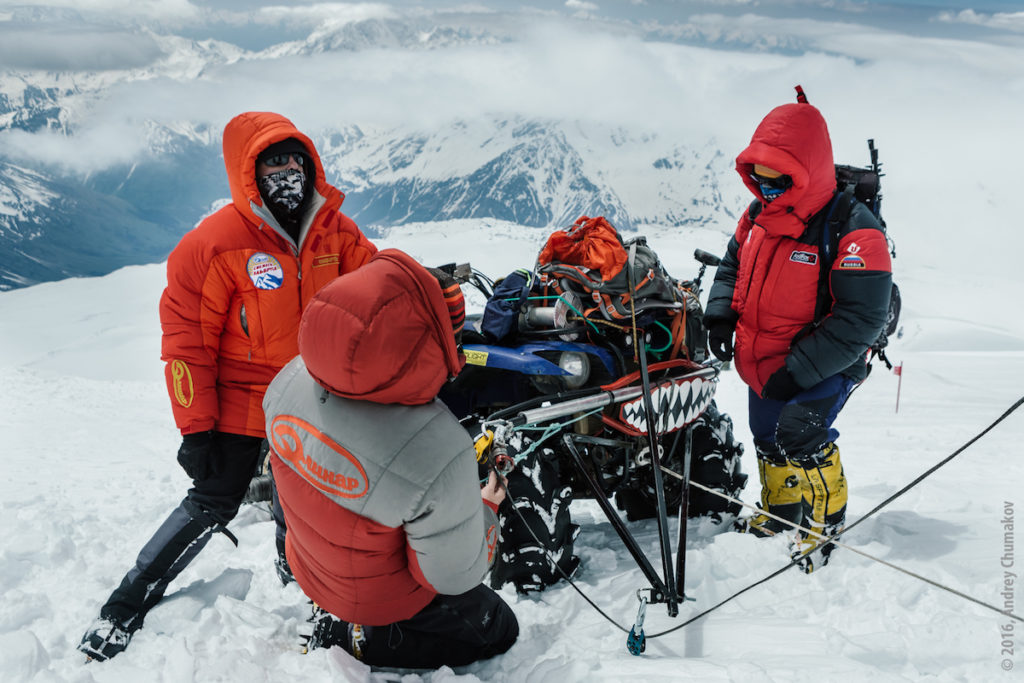 Meanwhile the weather got really bad – it grew dark, and rough snow was tearing off skin from our faces. Sometimes it felt like someone was throwing snow with a shovel right into our masks. At that moment I realized why climbers have stripes with their names adjusted to their clothes. When faces are hidden behind goggles and face masks, there is no chance of recognizing who is standing in front of you, and with such stripes things are much easier.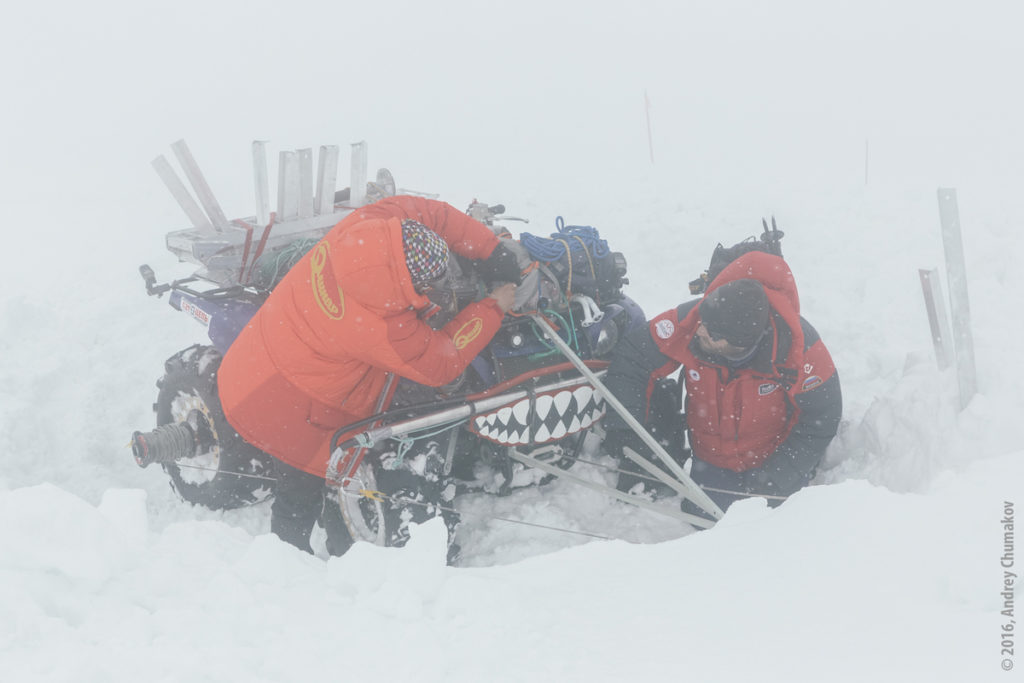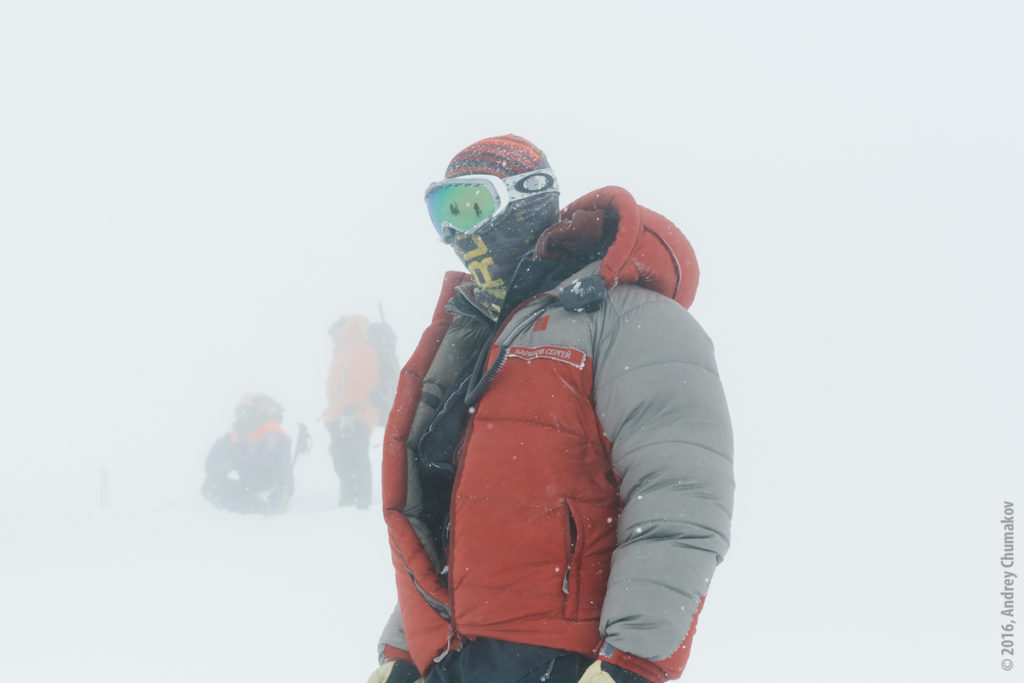 Being leader of the group, I couldn't be the first one to give in and was waiting patiently for our brave group member to do it and ask to head back. But no one did. Instead,the rescuers that were accompanying us said that we should hurry to turn back or we'd get caught up in a storm. And we hurried back after we'd buried the Smiley into snow and covered it with a hood. On that day we reached as high as 5,200 m/ 17,061 ft. You may think that our progress was as little as 150 m/ 492 ft, but I would rather say that it was as much as 150 m/ 492 ft uphill, towards the summit. In mountains distance is valued and appreciated in a unique way.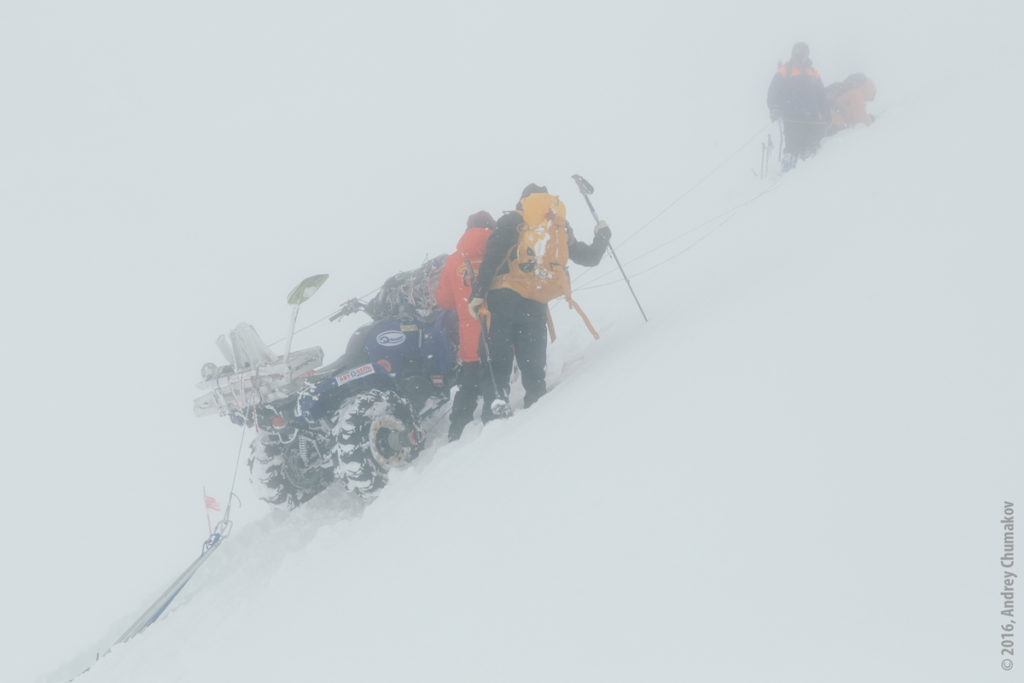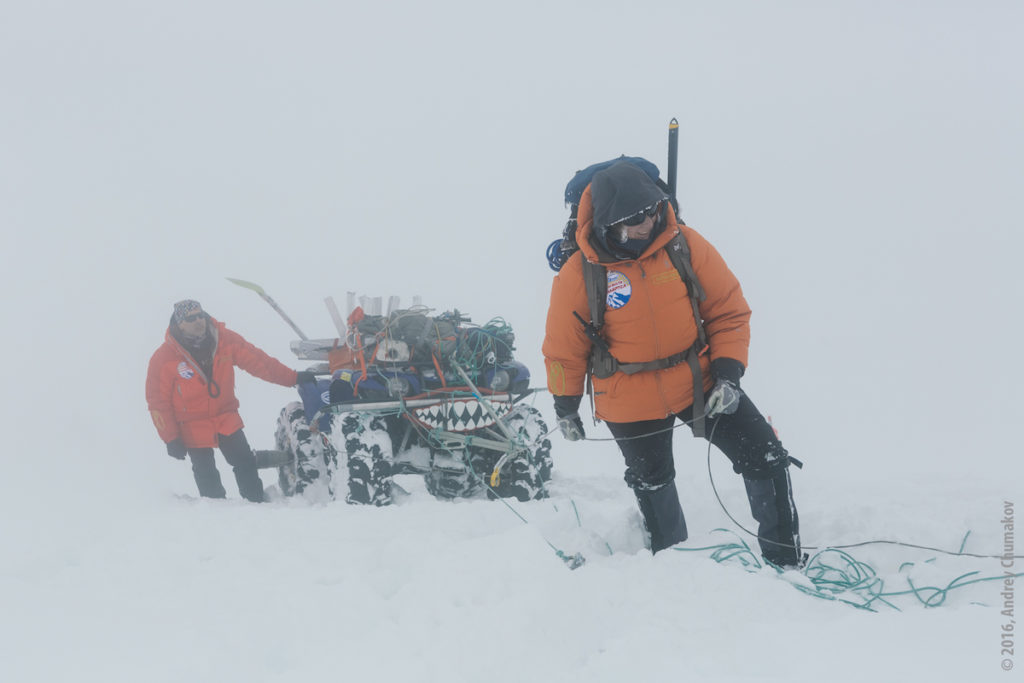 On Day 4 of our Elbrus ascent we realized that managed to reach a higher altitude than in 2014, which meant that every additional meter of our climb was already a new record. But our goal wasn't that of beating our previous record. Our goal was the summit, all the 5,642 m/ 18,510 ft of the mountain.
My crampons would get stuck in the quad's footboard every now and then, which was pretty annoying. Sergey recommended me to take them off but I was afraid that without them I was sure to fall into a crevasse. But then he explained that if I make an attempt to lock with my feet in crampons, I will get thrown ahead and against ice with my head so badly that I would be flying to crevasse in unconscious condition and would feel neither pain nor horror.
At the end of the slanting traverse at 5,050 m/16,568 ft, there was a rock blocking our way. For those on foot there was a narrow path to bypass it. But for our vehicle we needed two such paths and we decided to circuit the rock from above and that was really dreadful.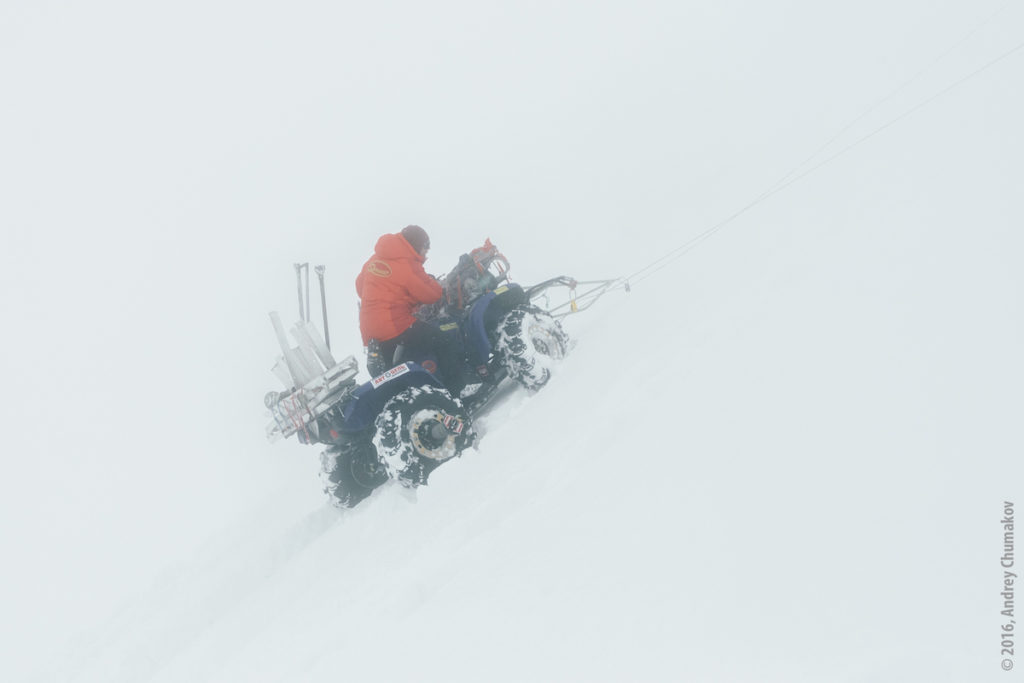 As it turned out, besides the fateful crevasses there was another great danger, too: when digging the slope to fix our pales, we were risking causing an avalanche. Sergey showed us cleavage of the snow by digging a pit. The slope grew much steeper and without crampons I was slipping on the ice (or whatever it was under the snow) every now and then. The pulling rope was so tense it was ringing like a string, and poles could tear free from the snow every moment… I had never walked and driven that slowly. Everyone was praying, even the Smiley.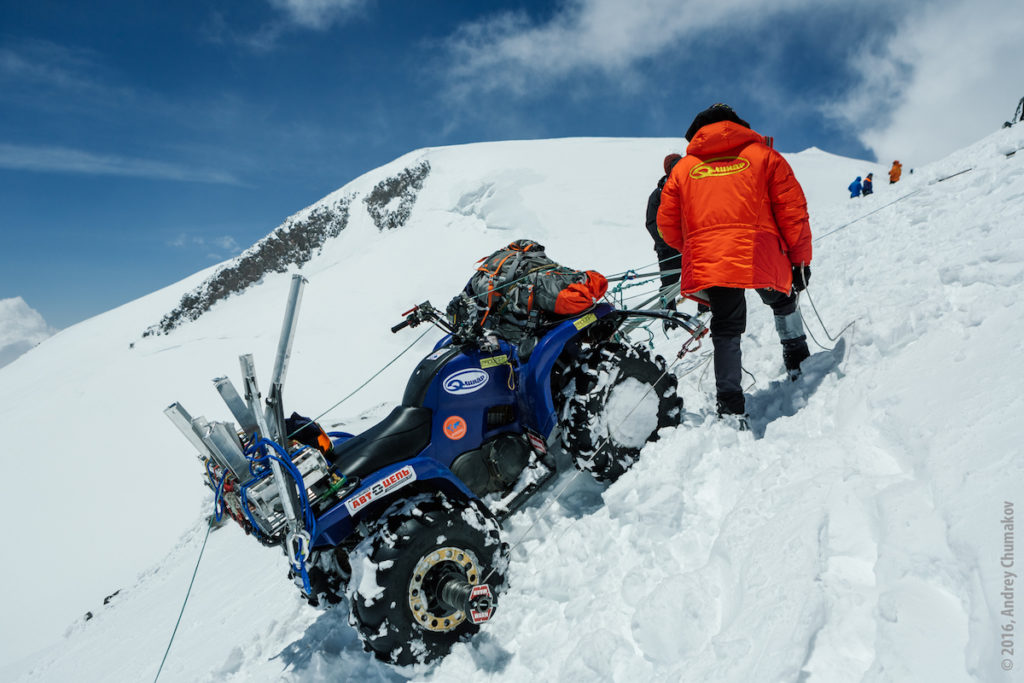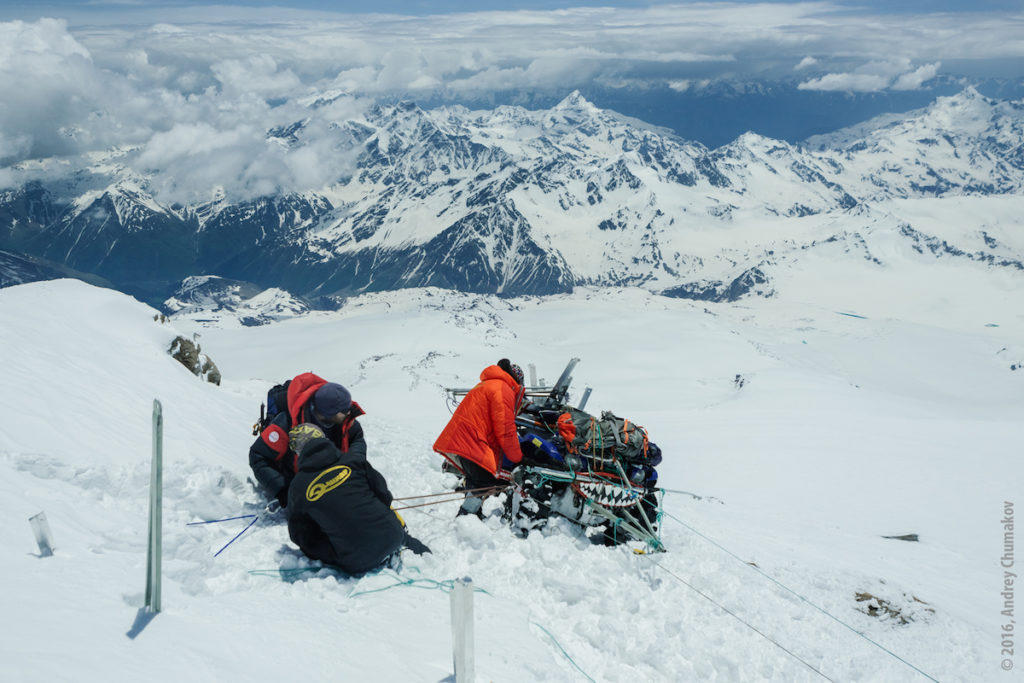 Good reach of sound from our prayers in combination with great professionalism of the guides from Mountain Guide company helped us pass the rock safely. The traverse was over and we stepped onto the Saddle at 5,350 m/ 17,552 ft. We covered the quad with a hood, buried it into the snow and headed back to the refuge.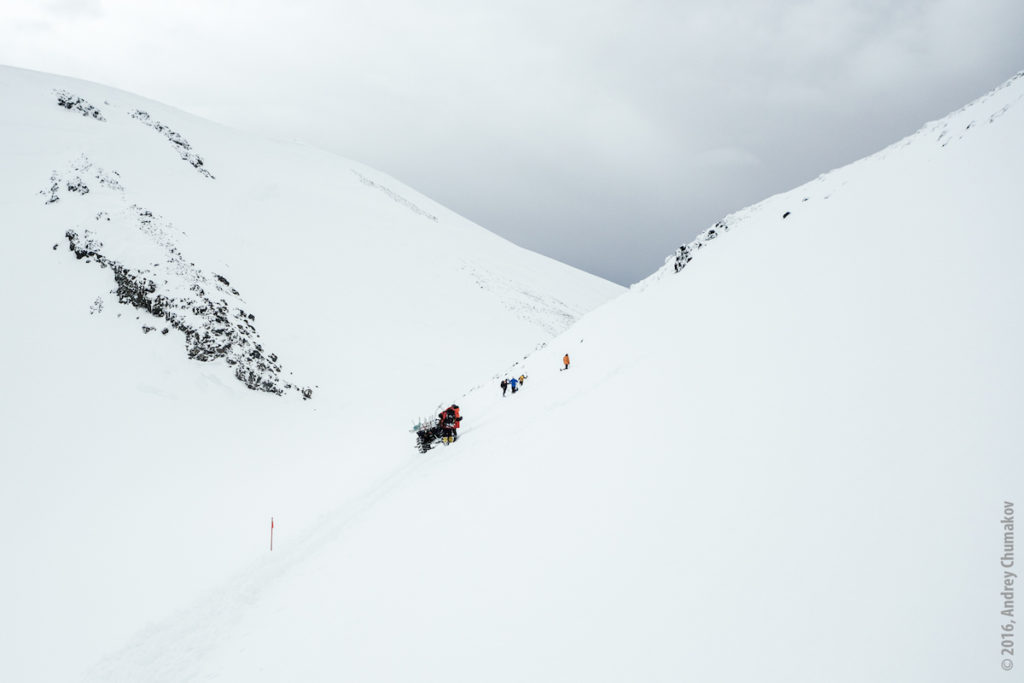 By the way, on that very day rescuers were taking down a climber who apparently overestimated his energy. And if you think that a person with cerebral edema shouldn't look like being alive, you are so wrong. When passing by us, he was jovial, was gesturing a lot and even making very loud but incomprehensible sounds (incomprehensible because they were in Korean).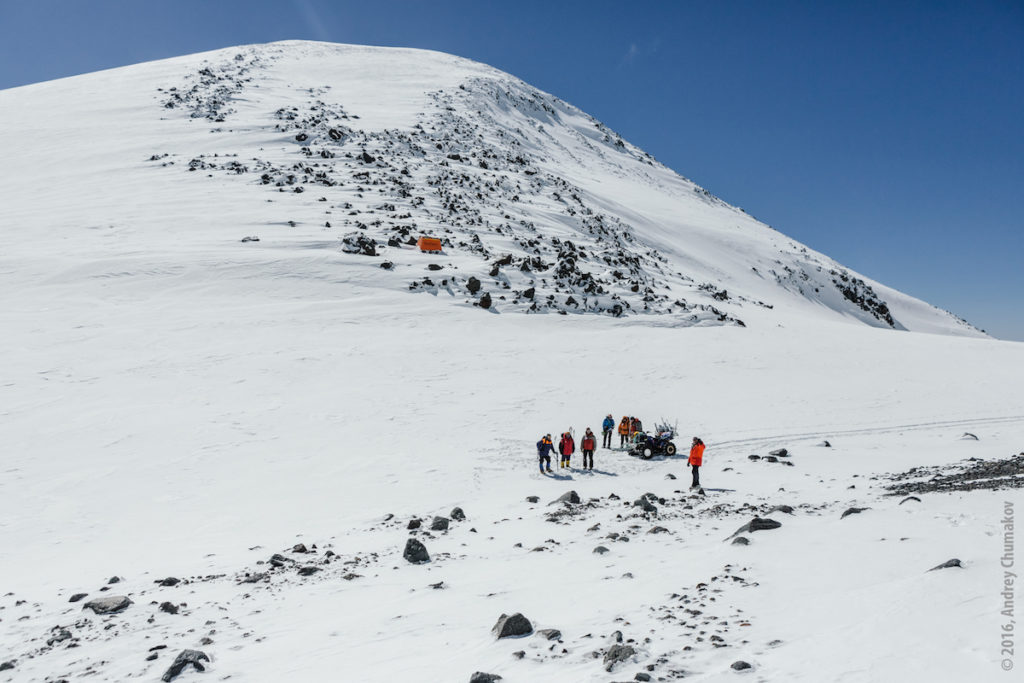 Day 5 of our Elbrus ascent was truly a heroic one. We woke up at 3 AM and started at 4 AM. At a vigorous pace (that was evoking envy and hate among slowly walking tourists) we passed our trail and dug out the quad.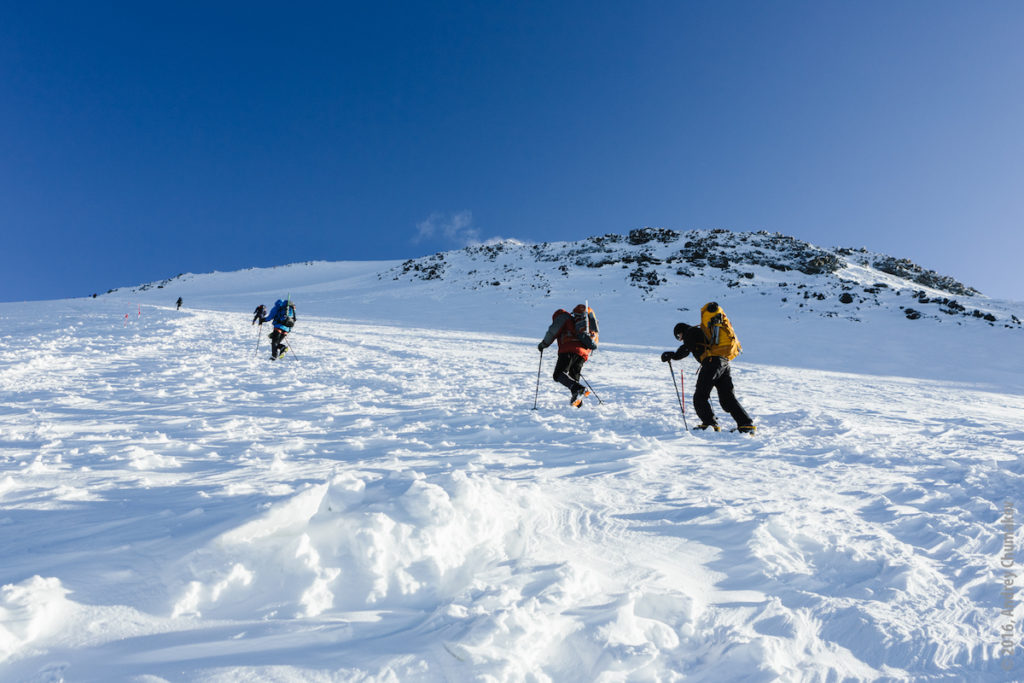 On that day we practiced all our skills of dealing with snow, slope and climbing. We were working so perfectly as a team that our camera men were hardly keeping pace with the quad though it was constantly belayed and was rarely moving on its own.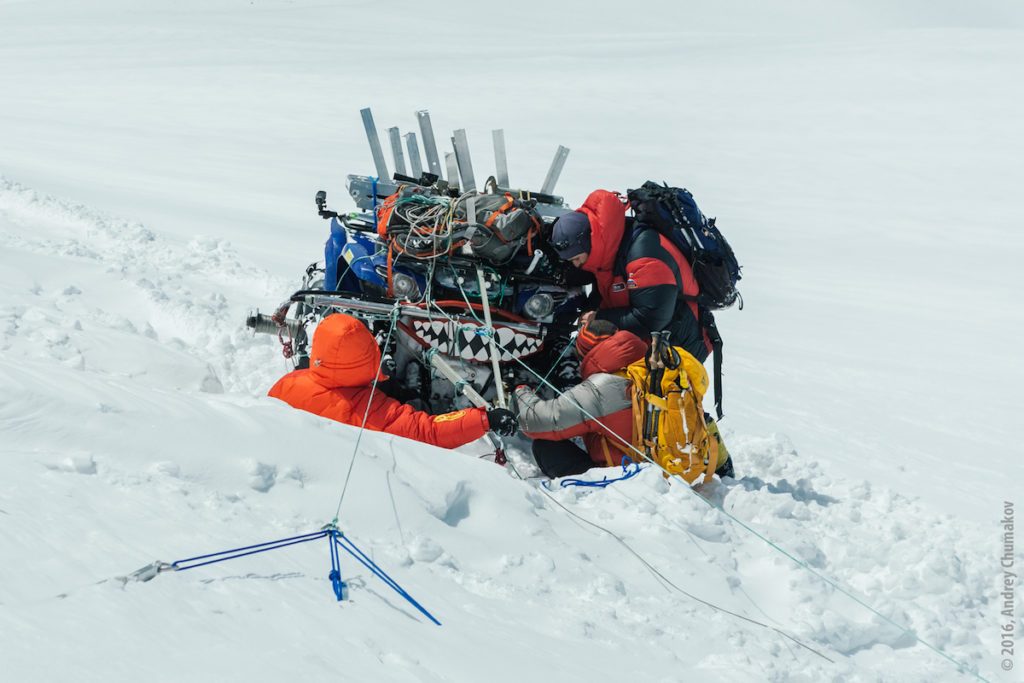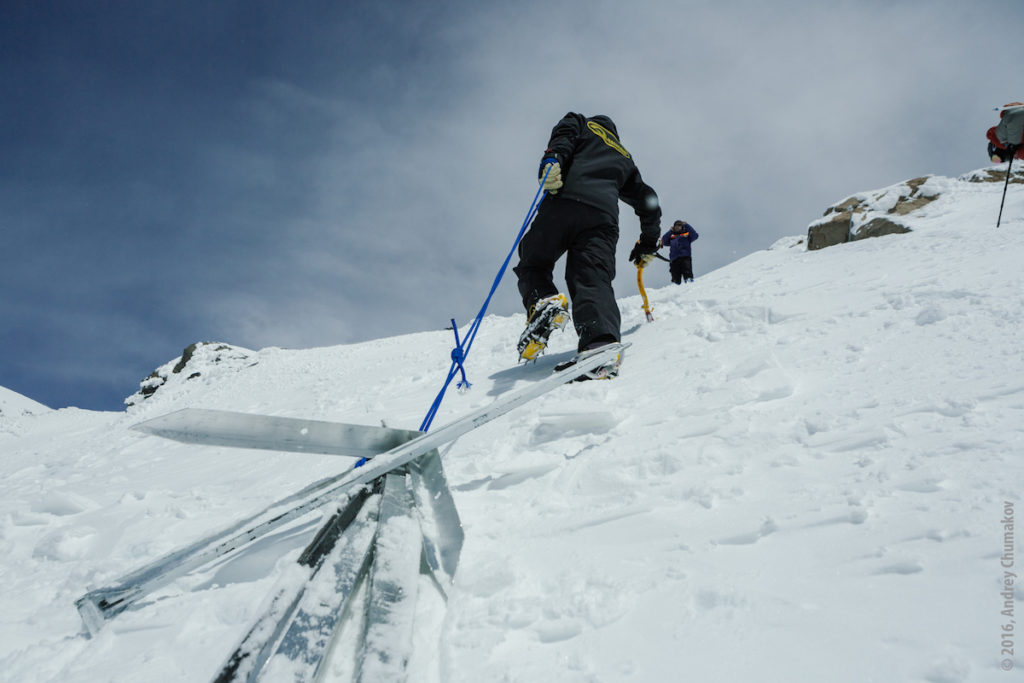 We were loping like deer and probably it was for this excitement that we weren't afraid of the ever-present huge risk of falling into some of the many crevasses that were invisible under snow, especially given the fact that our trail wasn't a classical one (just as you would expect of regular heroes). The title of "the best deer" was earned by our camera man, Andrey Chumakov. He was running around the quad, climbing onto most dangerous rocks – all in chase of interesting views. As you can see, pictures are great but most of the time he was taking so much risk that our guides wanted to kill him.
When on Saddle, I was riding for a while until I ran into an almost vertical wall of blue ice before the summit.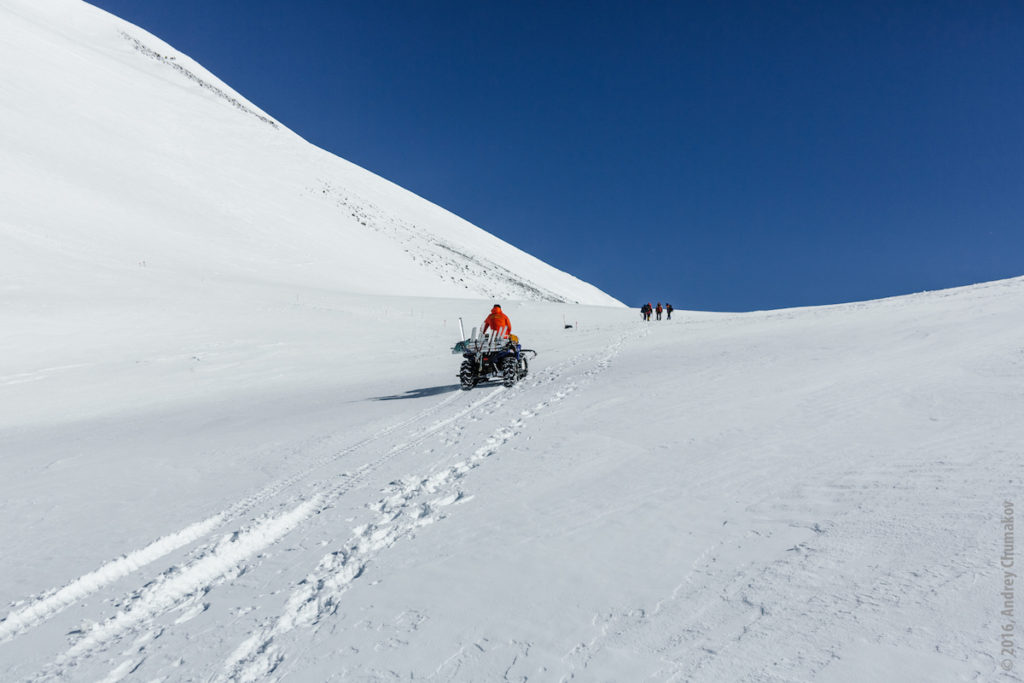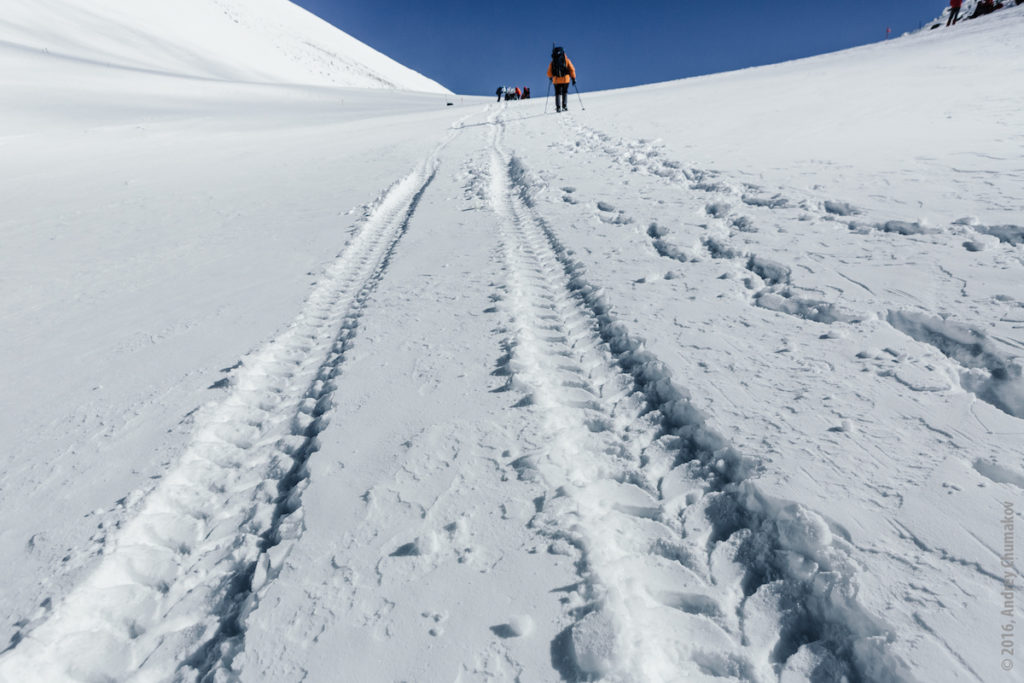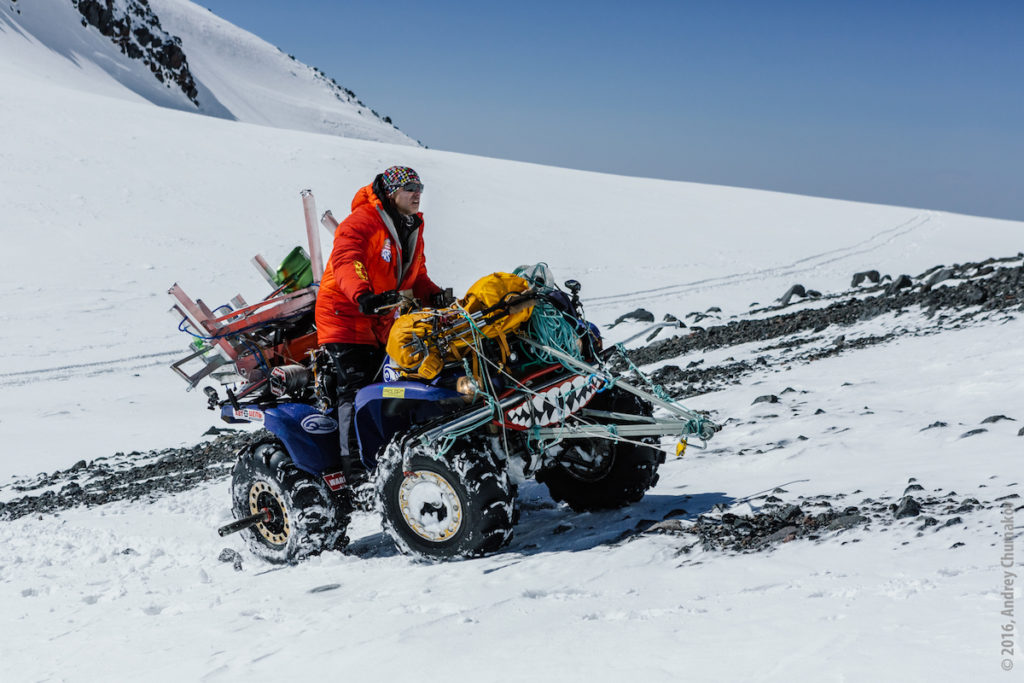 When looking at that wall of ice with deep crevasses covered by thin layer of snow, we felt how near the summit was. We started the long climb of our spider-like quad, with poles, ice axes, crampons and ropes being  its clutches.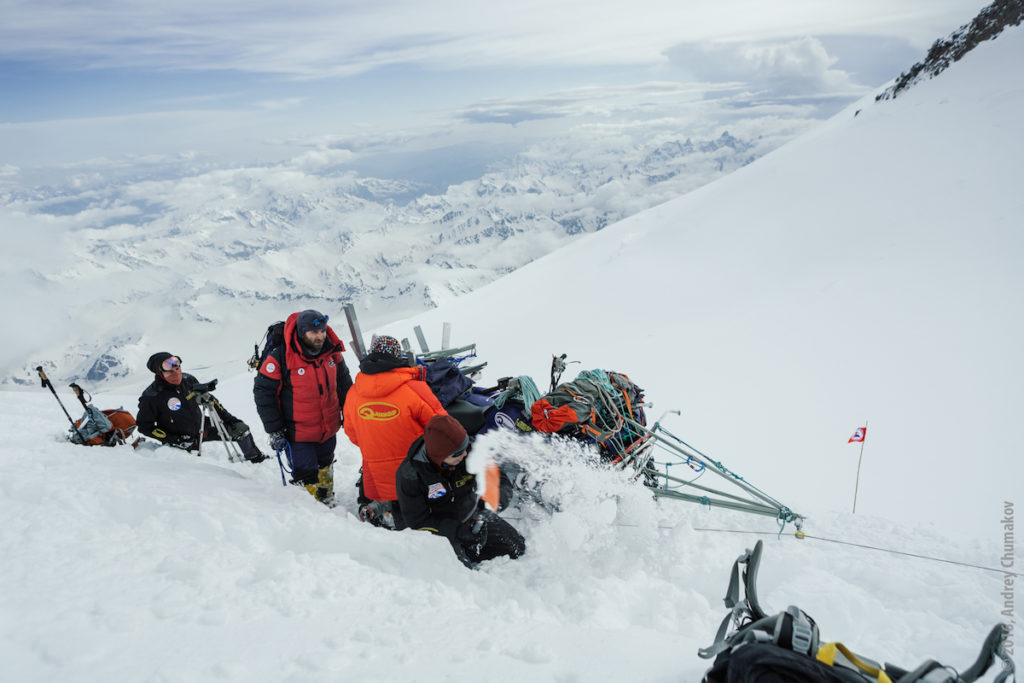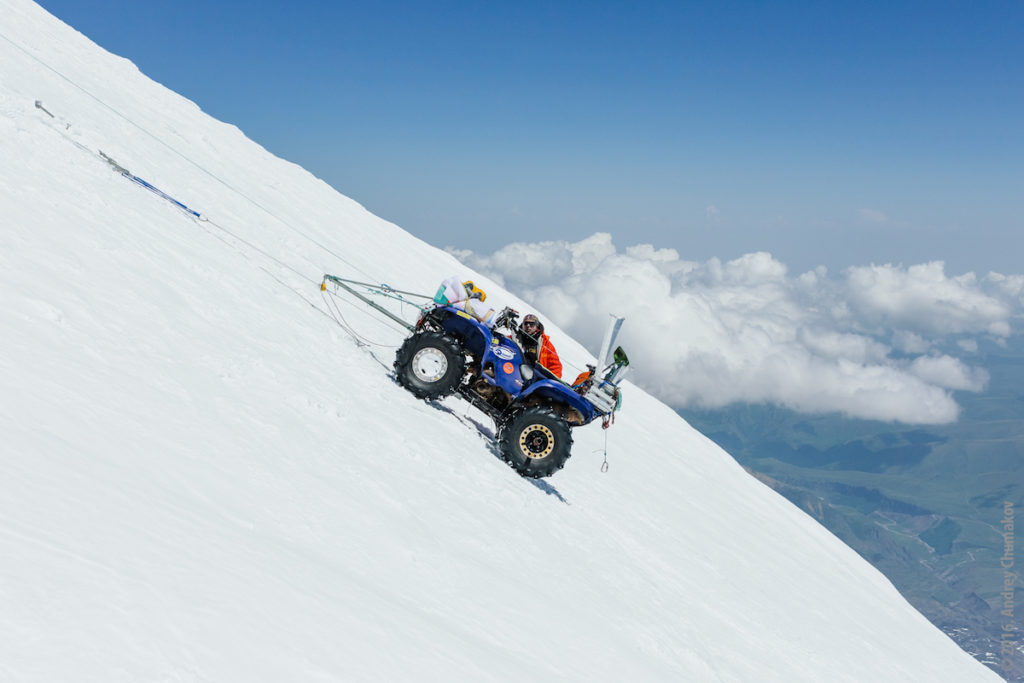 For a moment something went wrong and one of the pales tore off and nearly hit me in the head. Fortunately it didn't, but the vehicle was about to roll down the slope if it weren't for the belay. A few more ropes and we reached the table land in front of the summit.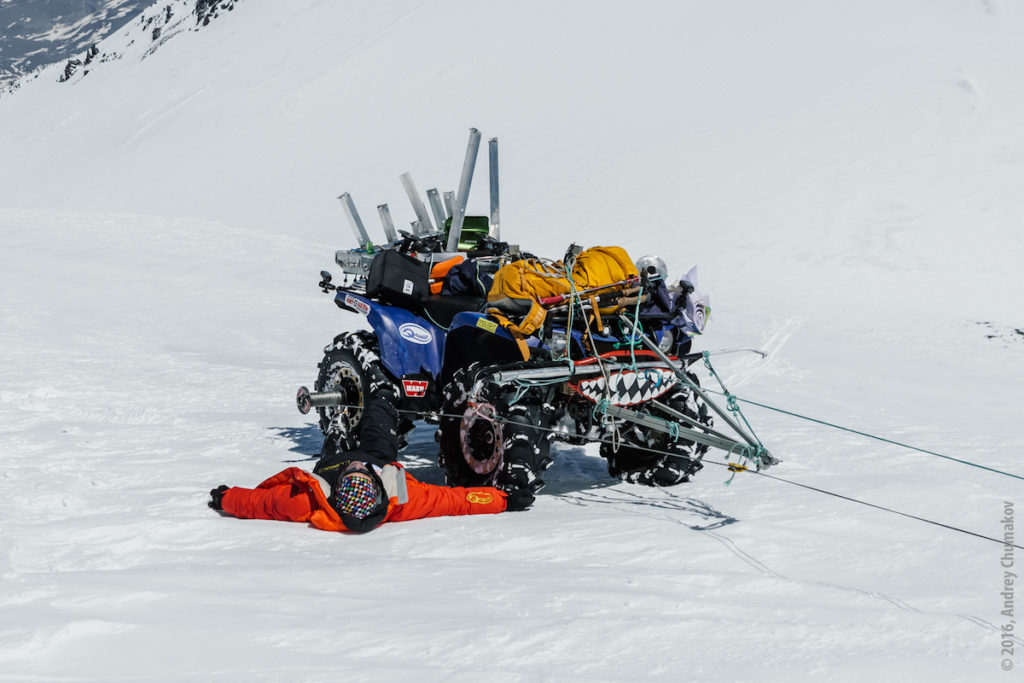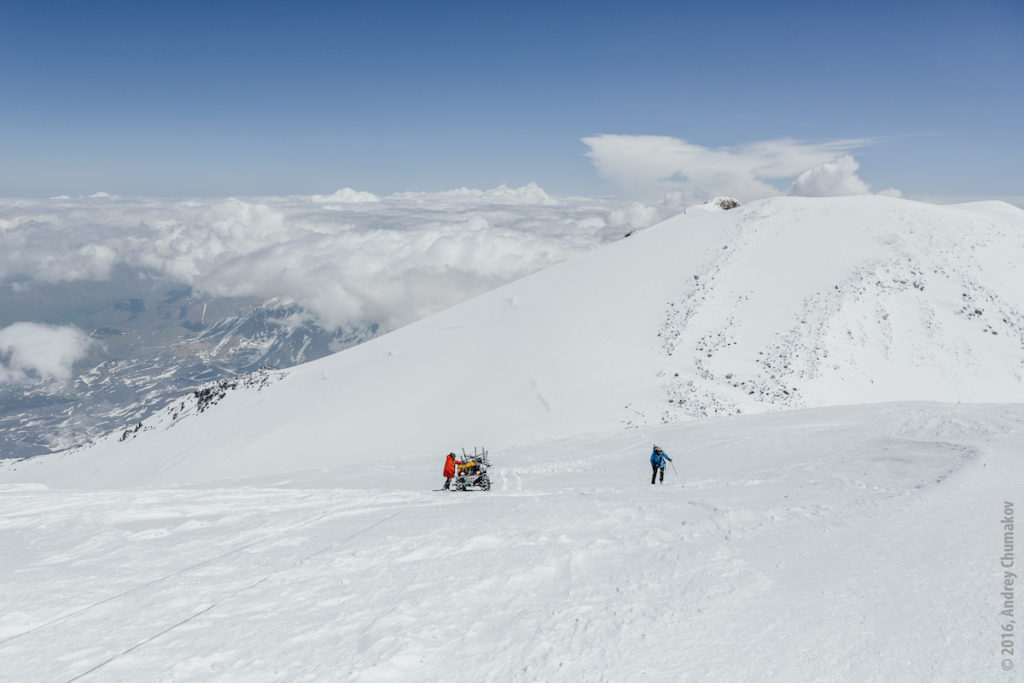 The final straight to the summit was covered with rose petals. On both sides of the trail crowds of excited fans were greeting me and throwing flowers and love letters… or was it a hallucination, an effect of AMS?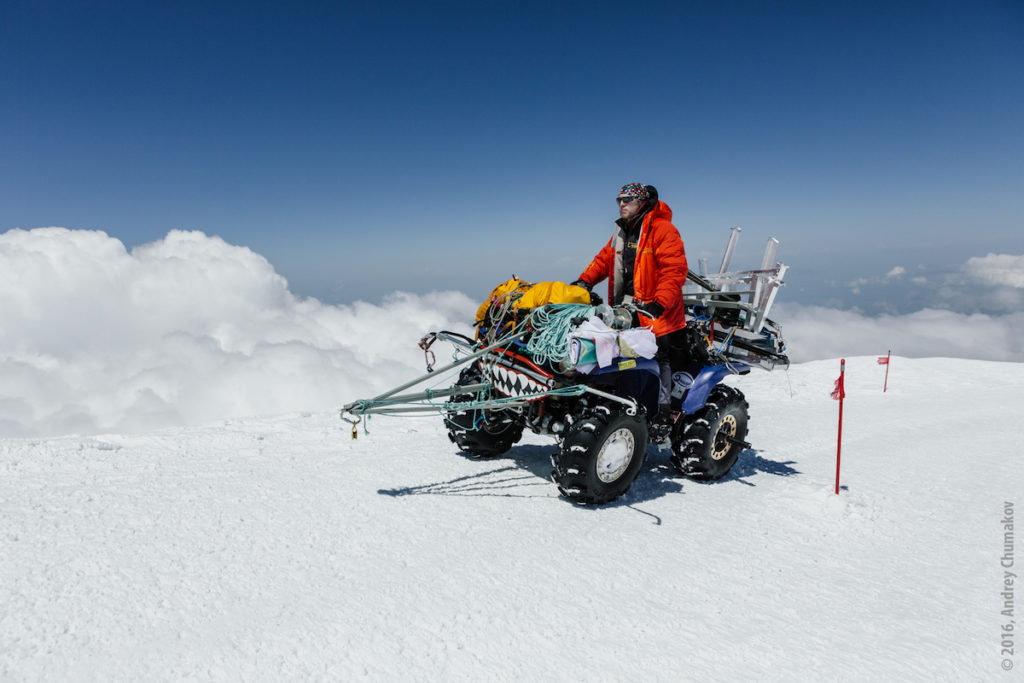 Approaching the final slope leading to the summit I realized that we needed to shape its surface. For the next half an hour with ice axes, crampons and hands, we dug a 20-meter trench wide enough just for our vehicle to pass.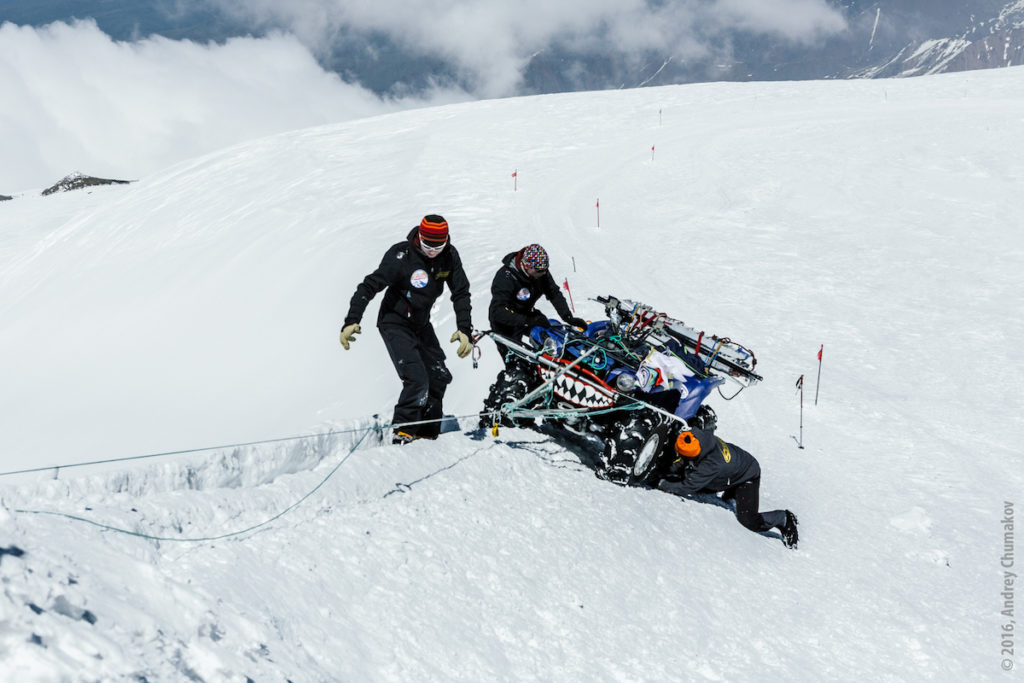 Other climbers that were making enormous efforts to make it to the summit (often crawling to it) were looking at us as at some giants. One of them with great effort articulated, "You are sure to be on drug with that much energy". But our answer left him perplexed, "We are shooting a film. We need to hurry not to miss the sun". And that was the truth – every one of us was eager to make a selfie on the summit.
Then we adjusted the belay and finally – THE SUMMIT!!!!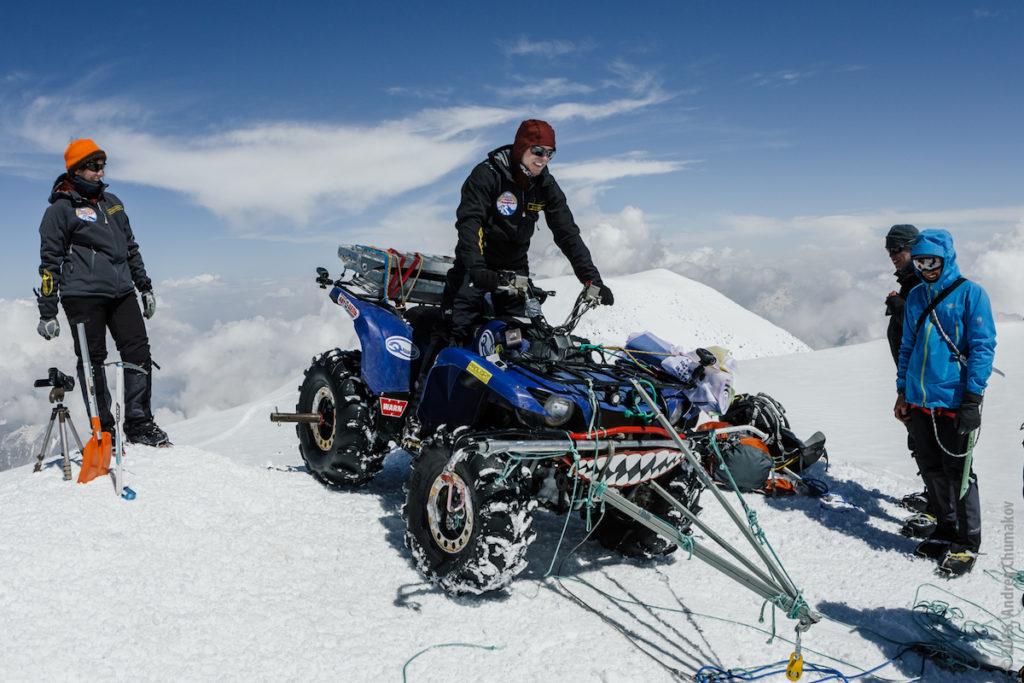 Climbers know the rule: successful summiting is celebrated only when you get back to the base camp, and never on the summit. That was the reason why we didn't congratulate each other and pronounced no pompous speeches. Everyone knew that descent could be no less dangerous.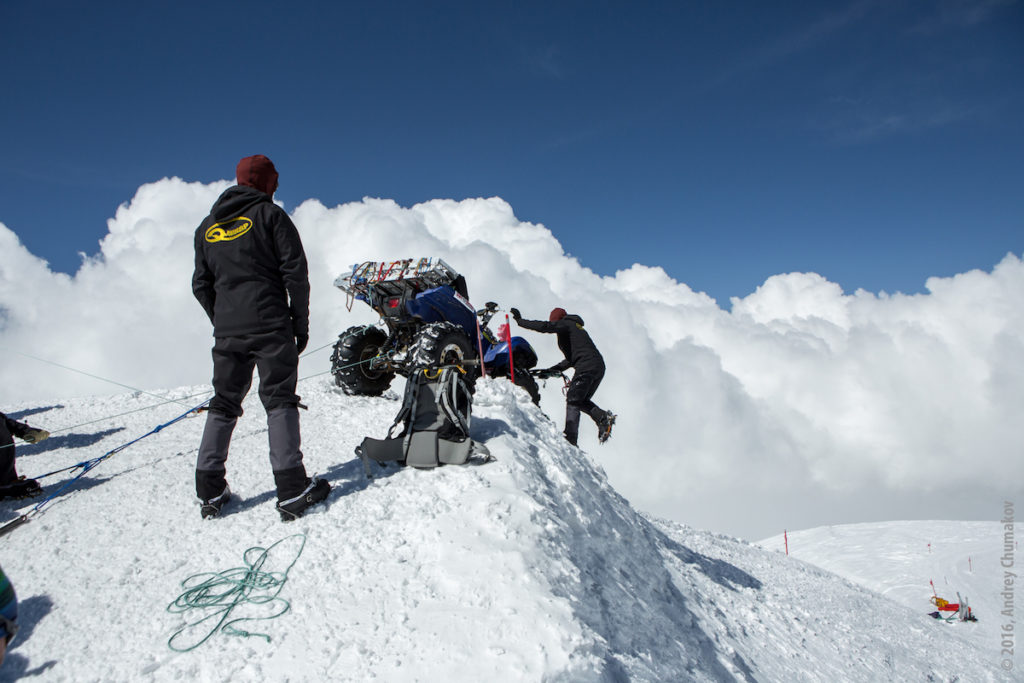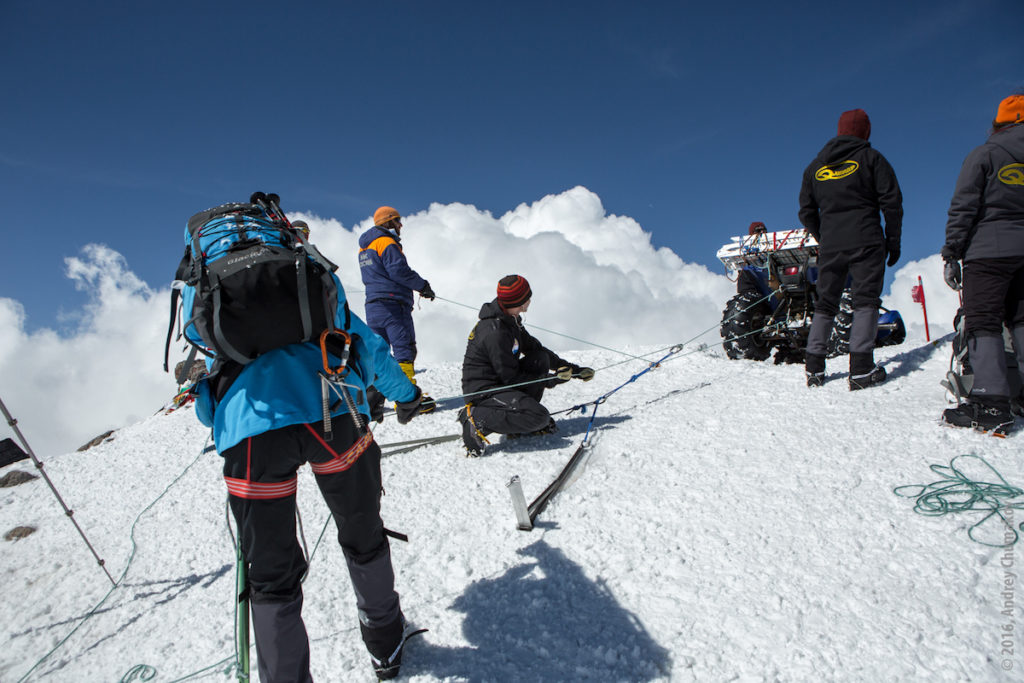 On that day we descended till that dangerous cliff near the slanting traverse. It grew dark by then and going round the cliff was too risky. Besides, 17 hours of hard work in the wind and cold took all our energy and we could hardly walk. We buried the quad into snow and headed down to our refuge…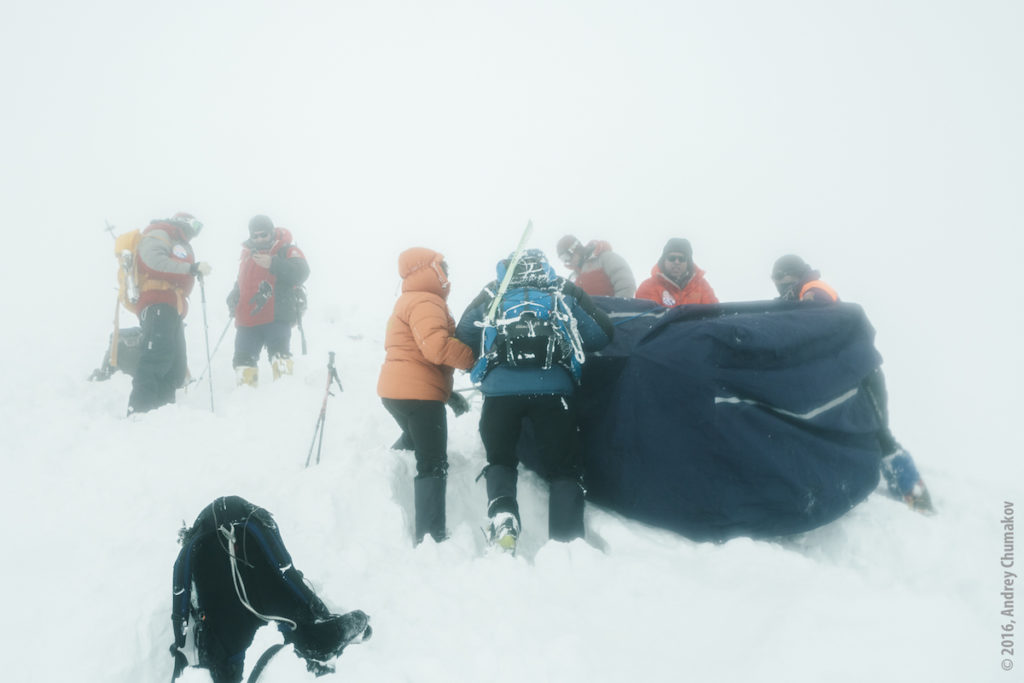 Day 6 was a real rest day – we woke up at 7 AM! (We slept till 7 AM!!). After leisurely breakfast, in three or four hours we took the quad down to Bochki camp. Generally speaking, I could have descended all the way down to Azau, but something held me back. Probably it was my desire to celebrate.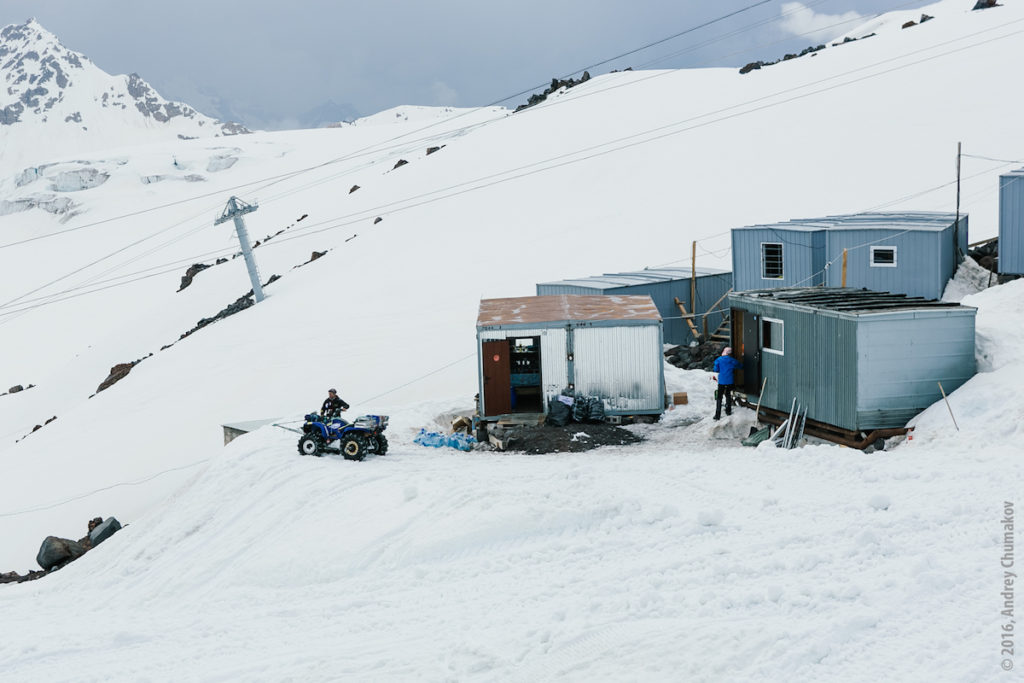 Day 7 we spent packing and taking down from the mountain all the variety of equipment that we didn't have a chance to use. Using my status I took as much luggage with me as a shovel, while other climbers persistently carried all packs and boxes down.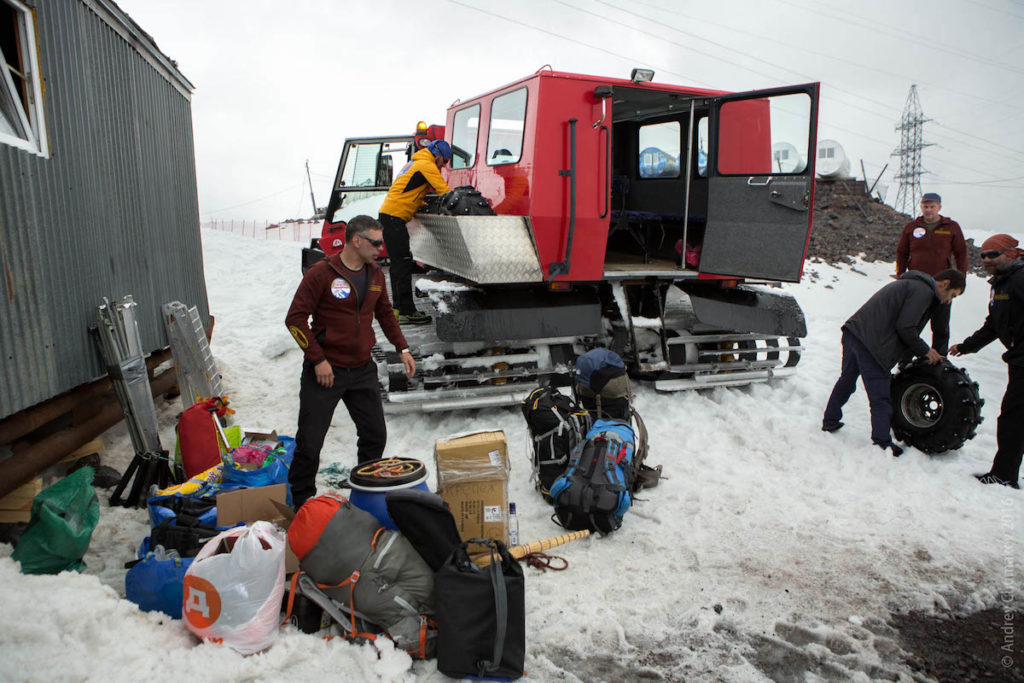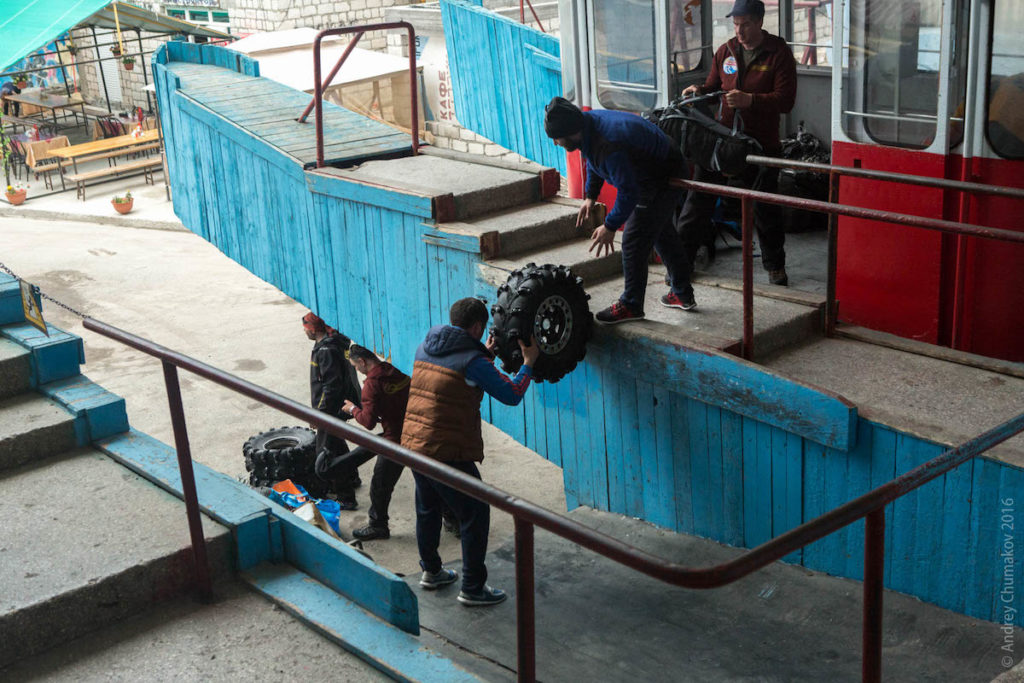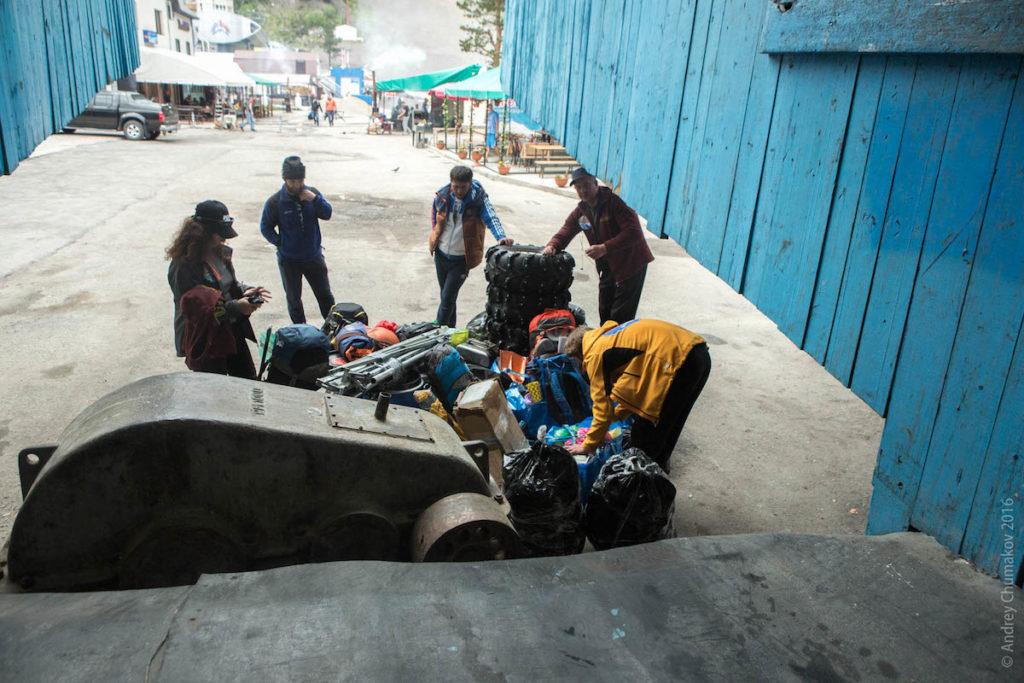 And since the name of our expedition – Elbrus Freshness – was meant to invite attention to the problem of pollution in Elbrus foothill regions, besides our own, we gathered and carried down four additional bags of garbage.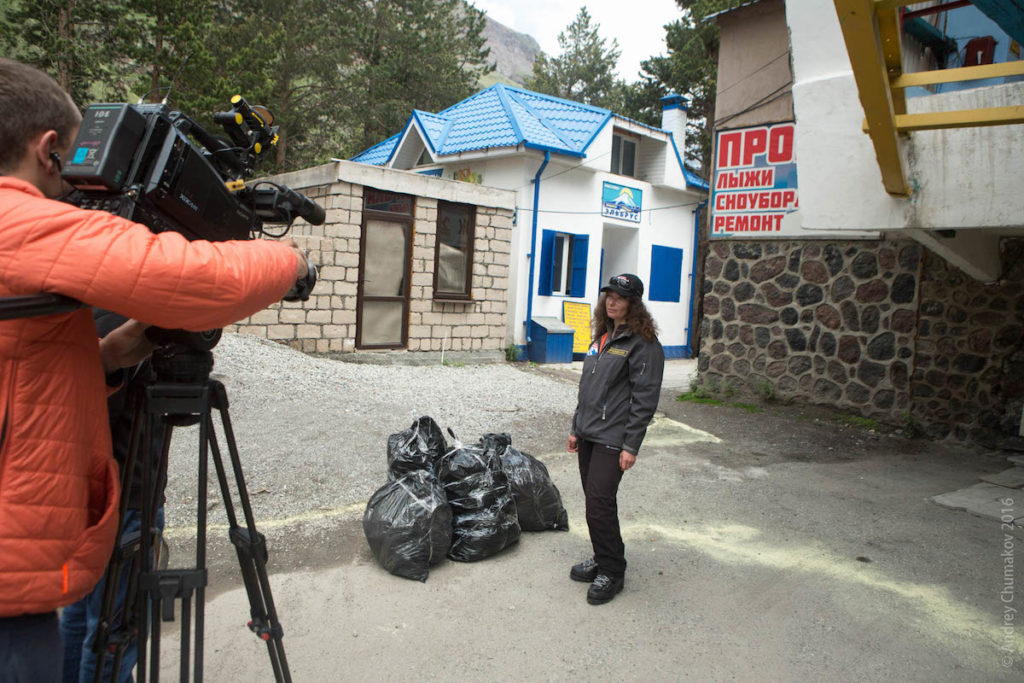 And when we descended to Azau, people were greeting us: they believed that Elinar Film Company was shooting a movie about Federal Rescue Service rescuing a team with a quad.
The team of quadascenders thanks the following organizations:
Elinar for making this ascent possible
Mountain Guide for helping to preserve the original number of expedition members alive and in good health
Sivera for keeping us warm in summer cold
Kolomenskiy Kanat for the guiding rope that brought us to the summit
Prolight for helping find our way in pitch darkness
Warn for excellent drawing machines. One of such machines was sufficient to support the entire ascent
Худсовет for providing us with flags to wave on the summit
Avtotsep for providing snow chains that kept us from drifting off the trail
Freshcoffee for an energy drink that no one would refuse
Category A for providing quad replacement parts that we fortunately didn't have a chance to use
Ann Shmakova for the smile that gave our quad a personality
[vc_row][vc_column][vc_raw_js]JTNDc2NyaXB0JTIwdHlwZSUzRCUyMnRleHQlMkZqYXZhc2NyaXB0JTIyJTNFJTI4ZnVuY3Rpb24lMjglMjklMjAlN0IlMEElMjAlMDklMjAlMDklMjBpZiUyMCUyOHdpbmRvdy5wbHVzbyUyOWlmJTIwJTI4dHlwZW9mJTIwd2luZG93LnBsdXNvLnN0YXJ0JTIwJTNEJTNEJTIwJTIyZnVuY3Rpb24lMjIlMjklMjByZXR1cm4lM0IlMEElMjAlMDklMjAlMDklMjBpZiUyMCUyOHdpbmRvdy5pZnBsdXNvJTNEJTNEdW5kZWZpbmVkJTI5JTIwJTdCJTIwd2luZG93LmlmcGx1c28lMjAlM0QlMjAxJTNCJTBBJTIwJTA5JTIwJTA5JTIwdmFyJTIwZCUyMCUzRCUyMGRvY3VtZW50JTJDJTIwcyUyMCUzRCUyMGQuY3JlYXRlRWxlbWVudCUyOCUyN3NjcmlwdCUyNyUyOSUyQyUyMGclMjAlM0QlMjAlMjdnZXRFbGVtZW50c0J5VGFnTmFtZSUyNyUzQiUwQSUyMCUwOSUyMCUwOSUyMHMudHlwZSUyMCUzRCUyMCUyN3RleHQlMkZqYXZhc2NyaXB0JTI3JTNCJTIwcy5jaGFyc2V0JTNEJTI3VVRGLTglMjclM0IlMjBzLmFzeW5jJTIwJTNEJTIwdHJ1ZSUzQiUwQSUyMCUwOSUyMCUwOSUyMHMuc3JjJTIwJTNEJTIwJTI4JTI3aHR0cHMlM0ElMjclMjAlM0QlM0QlMjB3aW5kb3cubG9jYXRpb24ucHJvdG9jb2wlMjAlM0YlMjAlMjdodHRwcyUyNyUyMCUzQSUyMCUyN2h0dHAlMjclMjklMjAlMkIlMjAlMjclM0ElMkYlMkZzaGFyZS5wbHVzby5ydSUyRnBsdXNvLWxpa2UuanMlMjclM0IlMEElMjAlMDklMjAlMDklMjB2YXIlMjBoJTNEZCU1QmclNUQlMjglMjdib2R5JTI3JTI5JTVCMCU1RCUzQiUwQSUyMCUwOSUyMCUwOSUyMGguYXBwZW5kQ2hpbGQlMjhzJTI5JTNCJTBBJTIwJTA5JTIwJTA5JTIwJTdEJTdEJTI5JTI4JTI5JTNCJTNDJTJGc2NyaXB0JTNFJTBB[/vc_raw_js][vc_raw_html]JTIwJTA5JTIwJTA5JTNDZGl2JTIwY2xhc3MlM0QlMjJwbHVzbyUyMiUyMGRhdGEtYmFja2dyb3VuZCUzRCUyMnRyYW5zcGFyZW50JTIyJTIwZGF0YS1vcHRpb25zJTNEJTIyYmlnJTJDc3F1YXJlJTJDbGluZSUyQ2hvcml6b250YWwlMkNub2NvdW50ZXIlMkN0aGVtZSUzRDA0JTIyJTIwZGF0YS1zZXJ2aWNlcyUzRCUyMnZrb250YWt0ZSUyQ2ZhY2Vib29rJTJDb2Rub2tsYXNzbmlraSUyQ3R3aXR0ZXIlMkNnb29nbGUlMkNtb2ltaXIlMkNlbWFpbCUyQ3ByaW50JTIyJTNFJTNDJTJGZGl2JTNF[/vc_raw_html]
---
[/vc_column_text][/vc_column][/vc_row]