Denali (Mc.Kinley)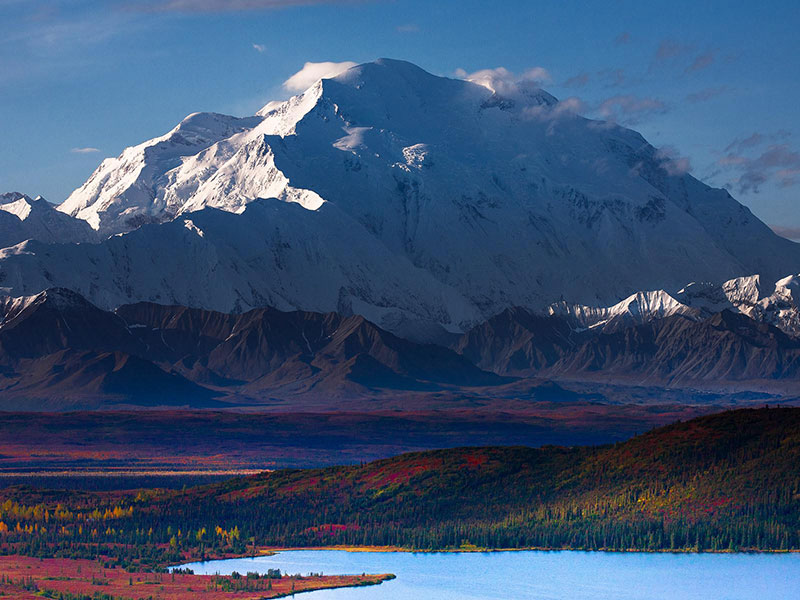 | | |
| --- | --- |
| Height (m) | 6193 |
| Duration | 21 day |
| Difficulty | Average |
| Continent | North America |
Itinerary of Climbing Mount Denali by West Buttress.
Day 1. Meeting in the airport of Anchorage, night in the hotel.
Day 2. Buying food, driving to Talkeetna (300km). Night in a kind of mountain refuge.
Day 3. Briefing at rangers (permits and instructions), packing, flight to glacier, 3 hours' walk with sleds and all the stuff, camp on "Ski-Hill" (2400m), overnight in tents.
Day 4. Walk to Camp 2 (2900m), overnight in tents
Day 5. Walk to camp 3 (3350m), overnight in tents. Finish of using skis or snowshoes.
Day 6. Walk to Base camp (BC) – Jenet Basin (4330m) through famous "Windy Corner", overnight in tents. Really long day.
Day 7. Rest in BC
Day 8. Bringing all the stuff for 3 days to the ridge (5000m) and coming back. Overnight in tents in BC.
Day 9. Walk to 5240m, overnight in tents.
Day 10. Rest in last camp to try climb Denali summit the next day if  EVERYBODY in the group feels well.
Day 11. Summit day.
Day 12. Descend to BC (or better – all the way to Airfield)
Day 13. Walk to Airfield
Day 14-18. Reserve days.
Day 19. Flight to Talkeetna, night in a refuge
Day 20. Arriving to Anchorage, night in the hotel
Day 21. Transfer to the airport.
The leader-guide with the experience of 8000m climb.
Assistant guides (total guides:clients ratio is 1:3)
Drive Anchorage – Talkeetna – Anchorage
Air flight Talkeetna-glacier-Talkeetna
2 nights in the Hotel in Anchorage
2 nights in Talkeetna in the bunk house
Consultations and help with making all necessary documents
All the group equipment (tents, stoves, ropes)
Food for the climb period
Fuel, marking sticks and so on.
Not included in the cost:
Flight from your home to Anchorage
American visa
Alpine Insurance
Private Equipment
Additional days in towns and cities
Permit (about 300 USD)

Any costs associated with program changes