Climb Mera peak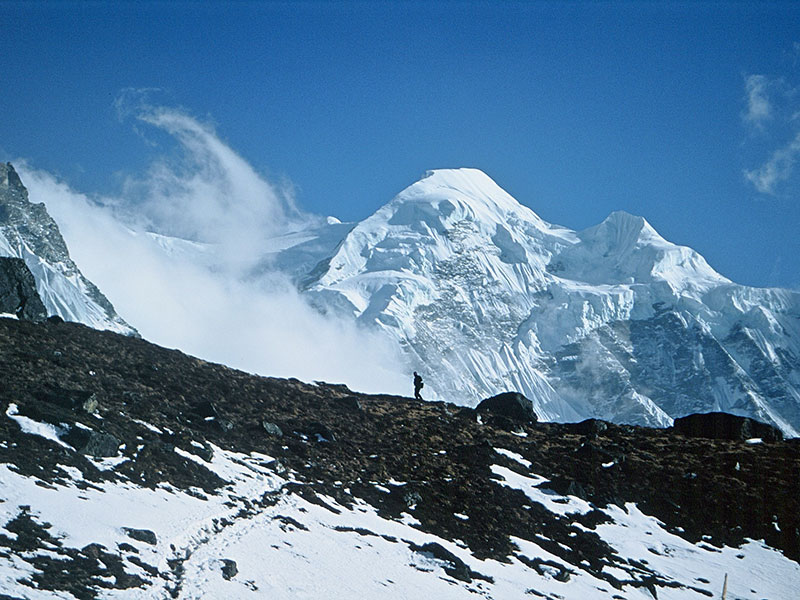 | | |
| --- | --- |
| Height (m) | 6476 |
| Duration | 20 days |
| Difficulty | Moderate |
| Continent | Asia |
2,800 $
Mera Peak is the highest trekking destination in Nepal. Climb Mera Peak and trekking is quite popular due to the accessible level of challenge the trail offers, even given the considerable height of the summit – 6476m.
Mera's summit offers views to five out of the world's six highest mountains – Cho Oyu, Makalu, Kangchenjanga and Everest.
Trekking in Nepal implies is a fairly easy walking along mountain paths. Today there are numerous trekking and climbing trails in Nepal. Prices of such tours are also different, depending on the offered itinerary.
The first ascent to Mera Peak was made in 1953 by Sen Tensing and Jimmy Roberts. The trekking trail, leading to the Base Camp passes through pine-wood and rhododendron forests located in unpopulated remote valley.
Mera Peak trekking trail passes through three valleys of impressive beauty – Imja, Hinku and Hongu. One of the most interesting sections on this trail is that between the ice passage Ambu Labsa and Imja valley, with a mountain lake located there. Another group of five most beautiful lakes (the Panch Pokhari) are located on the other side of the passage, in Hongu valley.
The least challenging and most popular trails to Mera Peak summit lead from the northern side and through Mera La passage. As a rule, those trails include sections passing through closed glaciers on a pretty high altitude. The views of Everest, Chamlang, Barutze and other equally impressive peaks open from Mera La passage, at an elevation of 5415m.
The trail to the southern slope passes through tribal settlements of Jiri and through Pangkongma, at an elevation of 3173m. And the trail from the eastern side, from the city of Lukla, leads through Zatrva La passage (at 4600m).
Mera Peak climbing trail is passing through an open snowy slope and further, via the left crest and the Southern summit, 6065m high. From that spot we can traverse to the Northern summit (6475m) through the Central summit that is 6,461 m high. The Central summit is technically more challenging and features a ledge rock on its northern slope. There are straight trails leading to both summits but due to the great number of crevasses on the mountain's slopes, those trails are more dangerous.
For a long time Mera Peak climbing was classified as F (facile/easy), but later, due to the crevasses that formed on the last 30–40 meters of its trail, the category of its challenge was raised to PD (Peu difficile/not very hard).
Day 1. Arrive at Kathmandu, accommodation at hotel and rest after the trip.
Day 2. Obtaining of permits required for the ascent. A sightseeing tour in Kathmandu and lodging in a hotel.
Day 3. Flight from Kathmandu to Lukla (to the altitude of 2800m), lodge.
Day 4. Trek to the village of Chutang (at 3370m), followed by a climb to an elevation of 4000 m, underneath the mountain passage. Staying in Chutang village.
Day 5. 6 to 8 hours climb through passage Zatrva La (at 4800m). Staying in Tuli-Kharka village (at 4250m).
Day 6. 4 to 6 hours descent to the village of Gote (Gotar) to the altitude of 3600m. Lodge.
Day 7. Trek to the village of Tagnag (at 4350m). Lodge.
Day 8. 3–4 hours trek to the village of Khare at 4950m, with lodging in a hut.
Day 9. An acclimatization and rest day in Khare. Lodge.
Day 10. Climb to Mera Peak's last pre-summit camp at 5800m, tents.
Day 11. Mera Peak summit day – to the altitude of 6476m – followed by descent to Khare. Lodge.
Day 12. This day of Mera Peak climbing expedition is reserved in case of bad weather. Lodge.
Day 13. Descent to an elevation of 3600 m – to Gote (Gotar). Lodge.
Day 14. Climb to Zatrva La passage with overnight stay in the village of Tuli Khakha (at 4250 m).
Day 15. Descent to Lukla, with lodging in a sunroom.
Day 16. Lukla to Kathmandu flight followed by transfer to hotel
Day 17. International flight from Kathmandu airport.
Price of Mera Peak climbing expedition includes:
Services of professional mountain guides (in the proportion of 1 per 3 climbers on the summit day).
All transfers mentioned in the itinerary.
All accommodation mentioned in the itinerary above – hotels and lodges
Permits for climbing and National Park fees.
Meals all through the climbing (prepared by a cook), but only breakfasts when in cities.
Sightseeing tours mentioned in the itinerary.
All group equipment.
Price of Mera Peak climbing expedition does not include:
International flights.
Personal gear.
Medical insurance for mountain climbing.
Lunches and dinners in cities.
Expenses incurred by any changes to the mentioned itinerary.
Services of rescuing and evacuation.
Tips.
Drinks.

Any costs associated with program changes