Elbrus South to North Traverse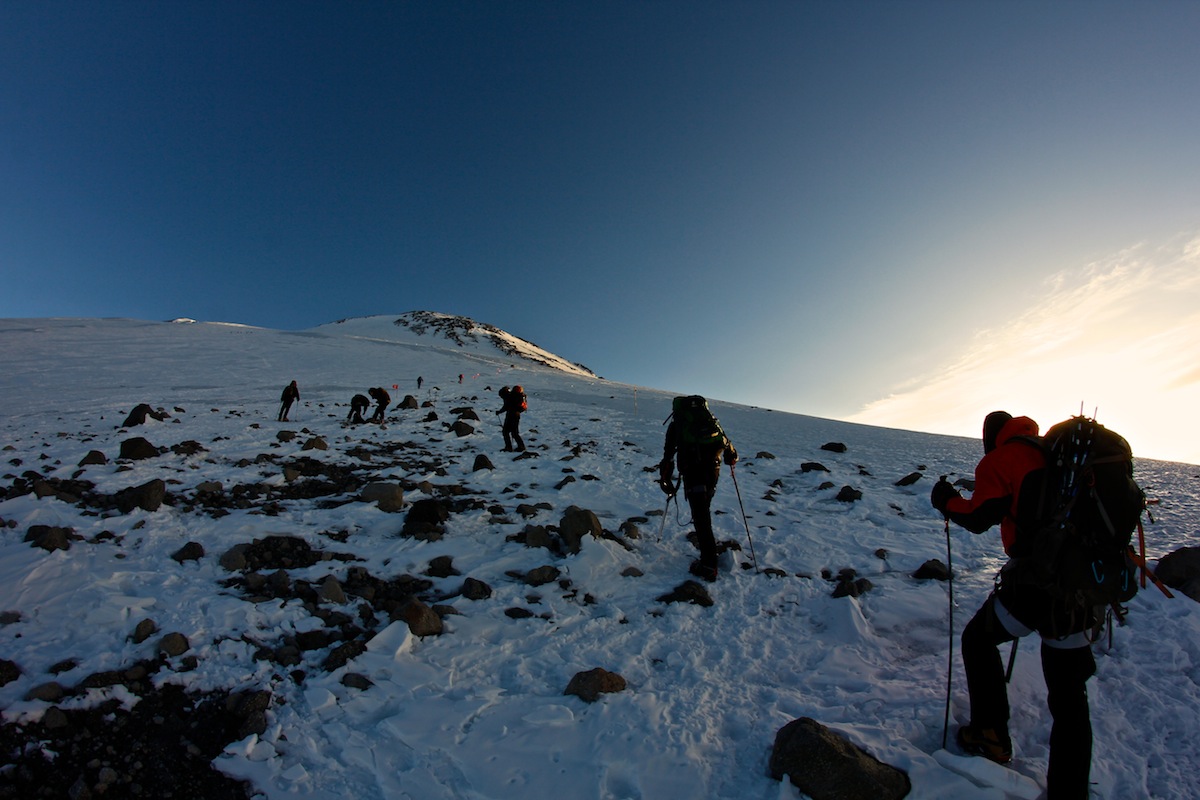 | | |
| --- | --- |
| Height (m) | 5642 |
| Duration | 9 days |
| Difficulty | Low |
| Continent | Europe |
1,300 $
Why should you choose us to guide your Elbrus South to North traverse? First off, because you are going to entrust our guides to care for your very own life and health. Unfortunately, accidents do happen in the mountains, and having reliable people to safeguard and take care of you is crucial.
Our hotel and our refuge on Elbrus slope – along with our own equipment and outfit rental (the newest and biggest on Elbrus foothill) – are all designed to provide for your high profile and safe rest.
All expeditions mentioned in Schedule and Services section are available upon request if 2 people are in the group.
We offer also programs for family vacation – rest and recreation for your family members while you are busy climbing Mount Elbrus.
Any of Elbrus climbs from the South can be turned into an Elbrus South to North traverse. However, only with this program we can offer you a lower price – equal to that of climbing with a group – even if you choose to climb alone, without a group.
Any other Elbrus climbs from the South out of this program also can be followed by descent on the northern side, but in that case you will have to pay the extra expenses of additional logistics and guide services.
The Elbrus South to North traverse consists of a pretty easy climb that allows for comfortable and quality acclimatization along with enjoying Elbrus views from different perspectives. You will get also the experience of climbing in roped parties and that of a very-very long day (though, you day wouldn't be very difficult and long if you choose to use a Snowcat to cut short part of the southern route to an altitude of 5100m). Anyway, you should be in good physical shape since on the northern side of Elbrus there are no such vehicles to rely on.
9-day Schedule for a Guided Elbrus South to North Traverse.
Day 1. Arrival at MRV airport. Departure from the airport at 12: 00-12: 15 pm for all arrivals on flights before 11:30 pm. Departure from the airport at 15: 15-15: 30 pm for all arrivals before 14:45 pm. Moving 200 km (3 hours) transfer to the hotel. The hotel of the system is at the beginning of the hundred-kilometer valley of the Baksan River, almost on the very slope of Elbrus. Gathering for dinner.
Day 2. Acclimatization hike to Cheget. Descent on foot to the hotel.
Day 3. Morning acclimatization hike to Maid's Braids waterfall (at 2700m) and further on, to the observatory (at 3100m).
Day 4. Taking a lift to the refuge and setting up there. After a snack, making an acclimatization hike to an elevation of 4400m, till the end of the ridge. Overnight stay in the huts.
Day 5. An acclimatization hike to Pastukhov's Rocks (at 4700m).
Day 6. Rest day. Final preparations for summiting Elbrus. 
Day 7. Summiting Mt. Elbrus (5642m), with an early start (at 2–4 AM) and possible use of a Snowcat. The proportion of guides and clients is strictly 1:3. Descent to a hut on the northern side.
Day 8. Reserve day. Descent to Emanuel glade, transfer to Terskol.
Day 9. Transfer from Terskol to the airport at 7 AM (plan your flight with this in mind!). Probably there will be some time for a walk in Pyatigorsk after you reach the airport and leave your luggage there. On your own, you can visit also the well-known Russian poet Lermontov's duel site.
To give you peace of mind, the package tours we offer, as a rule, include all expenses you may face.
Included in the cost of Elbrus South to North Traverse:
Mountain guides: one leading guide for the program of Elbrus South to North traverse and several assistants for the day of summiting, with a strict proportion of 1 guide per three climbers. This means that if there are four clients in a group, there will be two guides for them. We have no limitation of attempts for the group to summit. However, if part of the group made it to the summit while some members failed to, summiting is considered successful, and any additional attempts are made for additional payment.
Services of a cook.
Hotel with accommodation in double and triple rooms. Duration of stay depends on the schedule.
Accommodation in huts. Duration of stay depends on the schedule of Elbrus climb.
All transfers mentioned in the itinerary (including lifts) – from and to airport / station.
Meals three times a day throughout the trip. Dinner on the first day, breakfast – on the last.
All required permits and registrations.
Equipment for the group (ropes, ice screws, radios, first aid set, satellite navigators/GPS).
Not included in the cost of Elbrus South to North Traverse:
Snowcat on summiting day
Single accommodation
Personal equipment
Any deviations to the original schedule.

Any costs associated with program changes
List of equipment for Elbrus traverse from South to North.
Documents
Valid passport
Airline tickets
Voucher (a form, which was sent to you for obtaining visa)
Insurance
Personal equipment
Backpack
Sleeping bag
Ski/trekking poles
Crampons
Ice axe
Mustache insurance.
Helmet
Harness
5 Carabines
7 meters of 5 or 6 mm rope
Clothing and shoes.
Wind and waterproof layer – Pants and Jacket. Gore-Tex, for example.
Fleece pants and jacket
Thermo underwear layer – top and bottom
Dawn jacket.
Mittens
Thick gloves
Thin gloves
Bandana
Warm hat
Underwear, socks and so on
Some warm socks for a summit day
Balaclava
Windproof face mask
Gators
Trekking shoes/trekking boots
Double or triple boots
Travel Accessories
Headlamp
Shower accessories, toothpaste, toothbrush
Sunglasses
Ski goggles
Vitamins
Thermos (1 liter, better without button)
Sunblock and lip balm
Personal medical kit
Spare contact lenses or glasses
Knee supports