Climb Kazbek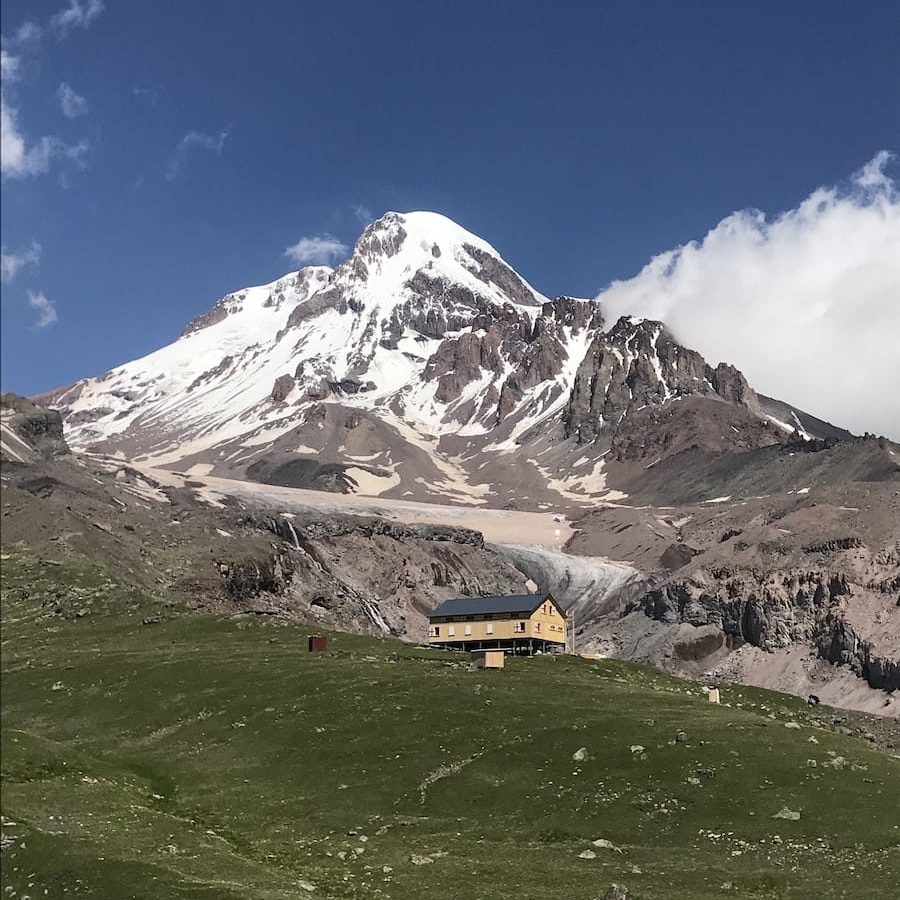 | | |
| --- | --- |
| Height (m) | 5642 |
| Duration | 8 days |
| Difficulty | Low |
| Continent | Europe |
833 $
We provide Kazbek climbing tours from the territory of Georgia.
Mt. Kazbek was summited for the first time in 19th century (in 1868) by D. Freshfild. This mountain is the subject of many tales and legends. At an elevation of about 3800 m, in an 80-meter high rock there is a cave with an ancient Betlemi (Bethlehem) monastery in it. This monastery was said to be a storage area of relics and church treasuries. As another legend has it, the rock to which Premetheus was chained, was on Mt. Kazbek.
Mt Kazbek is double-headed, featuring two summits –Eastern Kazbek (5033m) and Western Kazbek (5015m). Stretching over its slopes are massive and strongly torn glaciers. On its south-eastern slopes there is the Getget glacier, and on the south-western part streaming with a beautiful torrent from Maili plateau to Genaldon gorge is the Maili glacier that is broader than any ice cascade in the Caucasus. On the northern part there is the Chach glacier; on the north-eastern slope – the Devdorak glacier, and on the eastern slope – the Abano glacier.
Opening from Mt. Kazbek's summit is an awesome view of the Central and Eastern Caucasus. To the west, in clear weather, one can see another famous Caucasus volcano – Mount Elbrus (5642m). In the Main Caucasus range, closer to Mt. Kazbek, one can distinguish the 5000m high summits of Bezengi, beautiful tops of Tsey that surround the Karaugom Plateau. One can enjoy also the views of the grey Tepli pyramid, and right underneath Kazbek's summit – the rock-and-icy ridges of Mt. Jimara with dominating icy peaks of Jimara, Mailihoh, Shauhoh and Sautisi.
Day 1. Meeting at Kazbegi village. The transfer from Tbilisi or Vladikavkaz can be organised separately.
Day 2. Trek to the highest operating Orthodox Church situated at an elevation of 2170m. Preparations for the next-day climb. Overnight stay in Kazbegi village.
Day 3. A 7–9 hours climb to the Meteorological station (at 3600m) through Sabetse Pass, with overnight stay there.
Day 4. Acclimatization hike to a chapel at an elevation of 4000 m. Overnight stay at the Meteorological station.
Day 5. Rest day
Day 6. 6–8 hours' climb to Kazbek summit. Descent to the Meteorological station, with overnight stay there.
Day 7. Reserve day.
Day 8. Descent to the village of Kazbegi. Self transfer to the airport or to the hotel.


Services of English speaking guide throughout the entire program
Services of professional mountain guides – one for three to four climbers on the summit day
All transfers as mentioned in the itinerary
Accommodation at the Meteorological station mentioned in the itinerary
Meals all through the climbing tour
Help in getting required permits
All group equipment
Transportation of the group equipment
First-aid-kit
Hotel with accommodation in double and triple rooms in Kazbegi on the first night. 
Not included in the cost:
International and local flights
Permit for climbing
Personal carriers and horses for personal luggage
Personal gear
Expenses incurred by any changes to the mentioned itinerary
Medical insurance and expenses incurred by evacuation in case of an accident
Personal expenses (drinks, internet, telephone calls and the like)
Visa charges (if applicable – about 35 USD)

Any costs associated with program changes
Documents:
Passport
international passport
Airplane / Train Tickets
Medical insurance
Personal equipment:
Backpack. 60-80l.
Sleeping bag, comfort temperature from -10С to 0С (from June to September inclusive), from -20С to -10С (from October to May inclusive).
Sleeping mattress.
Trekking poles.
Crampons
Ice ax. Classical.
Harness.
Carabiners – 3 pcs.
Mustache insurance.
Ice screw on a separate carbine
Personal dishes
Clothes and shoes:
Climbing boots single-layer or double. Double – plastic or leather. Of plastic, we recommend Scarpa Vega – perhaps the warmest of all double boots.
Sneakers trekking or boots trekking. In May and early June, you can still see snow at the first acclimatization exits, in which case the advantage of shoes over sneakers is undeniable. However, after mid-June and until the end of September they can be replaced with sneakers.
Waterproof layer – Jacket + pants. The industry offers a range of products from simple membranes 5000/5000 to products from Gore-Tex.
Fleece pants and jacket.
Thermo underwear top + bottom.
Down jacket. Thick and warm.
Mittens are warm.
Thick gloves.
Thin gloves.
Bandana (in addition to sun protection in the valley, it can be used to warm your throat or face in the cold)
Hat warm.
Warm trekking socks for climbing day
Miscellaneous:
LED headlamp.
Sunglasses.
Ski goggles.
Thermos – 1l. Better without a button in the lid.
Windproof mask on the lower part of the face (you can replace it with a scarf with some success).
Gaiters.
Sunblock and lip balm.
Chemical heating pads (not necessary, but can be very useful).
Personal medical kit.
Knee supports.