Dykh-Tau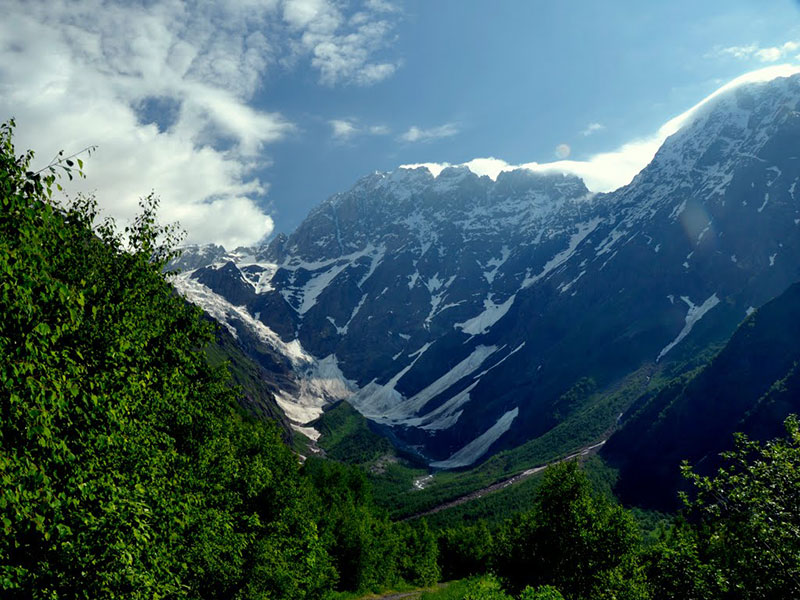 | | |
| --- | --- |
| Height (m) | 5205 |
| Duration | 10 days, 15 days |
| Difficulty | Above average |
| Continent | Europe |
We offer you to get acclimatization easily and comfortably on Elbrus, so you can climb Dykh-Tau straight up as soon as you arrive to Bezengi. But we also can offer you an expedition straight to Dykh-Tau if you want so.
Itinerary of 10-Day Expedition to Climb Dykh-Tau.
Day 1. A four-hour ride (200km) to the Bezengi mountain camp after arrive at Mineralnie Vody airport.
Day 2 –3. Acclimatization hikes.
Day 4. Hike to Camp 1 of Mt. Dykh-Tau. Overnight at camp.
Day 5. Hike to Camp 2. Overnight at camp.
Day 6. Summiting Dykh-Tau. Overnight at camp.
Day 7. Descent to Bezengi camp.
Day 8-9. Reserve and extra acclimatization days.
Day 10. Transfer to Mineralnie Vody for departure home.
Itinerary of 15-Day Elbrus + Dykh-Tau climb
Day 1. A three-hour (200km) ride to a hotel in the beginning of the 100km long Baksan valley (nearly on Elbrus slope) following the arrive to Mineralnie Vody airport. In the nearby village Terscol you can use post office and internet, obtain any gear you need in rentals and equipment shops. There is a rescue service in the village, too.
Day 2. Hike to Mt. Cheget (at 3470 m) for acclimatization, using ski lift for a part of it. From that destination perfect views open on Mount Elbrus, including its climbing route, along with Terskol observatory and the vast Baksan valley.
Day 3. A ski lift ride up to huts (at 3720m), followed by a hike up to 4500m, with overnight in huts.
Day 4. Of the expedition to climb Dykh-Tau is reserved for rest and preparations for the following summit day.
Day 5. Summiting Mount Elbrus, starting as early as 2–4 AM. One guide leads 3-4 group members. For extra pay it is possible to use a snow cat in order to get to the altitude of up to 4550 m. Overnight in huts.
Day 6. Descent from the huts to the hotel for rest and celebrations.
Day 7. Ride to the base camp through Bezengi region.
Day 8. Trek to Camp 1 on the route to Mt. Dykh-Tau summit.
Day 9. Hike to Camp 2.
Day 10. Summiting Dykh-Tau.
Day 11. Descent to Bezengi camp
Days 12-14. Are reserved in case of rough weather.
Day 15. Airport transfer for departure to home from Mineralnie Vody.
Price of the expedition to climb Dykh-Tau includes:
Guides: a leader guide of the group all through the ascent and assistant guides on the day of summiting (with one guide leading 3-4 climbers). Included in the cost is support of only one summit attempt.
Hotel stay at shared double or triple room (duration determined by the program)
Transfers and rides by the program (using buses, cars and lifts)
Obtaining of all required permits and registrations
Accommodation in huts (duration determined by the program)
Required gear for the group (such as ropes, ice screws, tents, kitchen and radios).
Three meals a day, including dinner on the first day of arrive and breakfast on the last day of the trip.
Price of the trip to climb Dykh-Tau does not include:
Any personal equipment
Hire of snow cat on the day Elbrus summiting
Single accomodation
Cook's and guides services in case of additional climbs.