Aconcagua, 7 days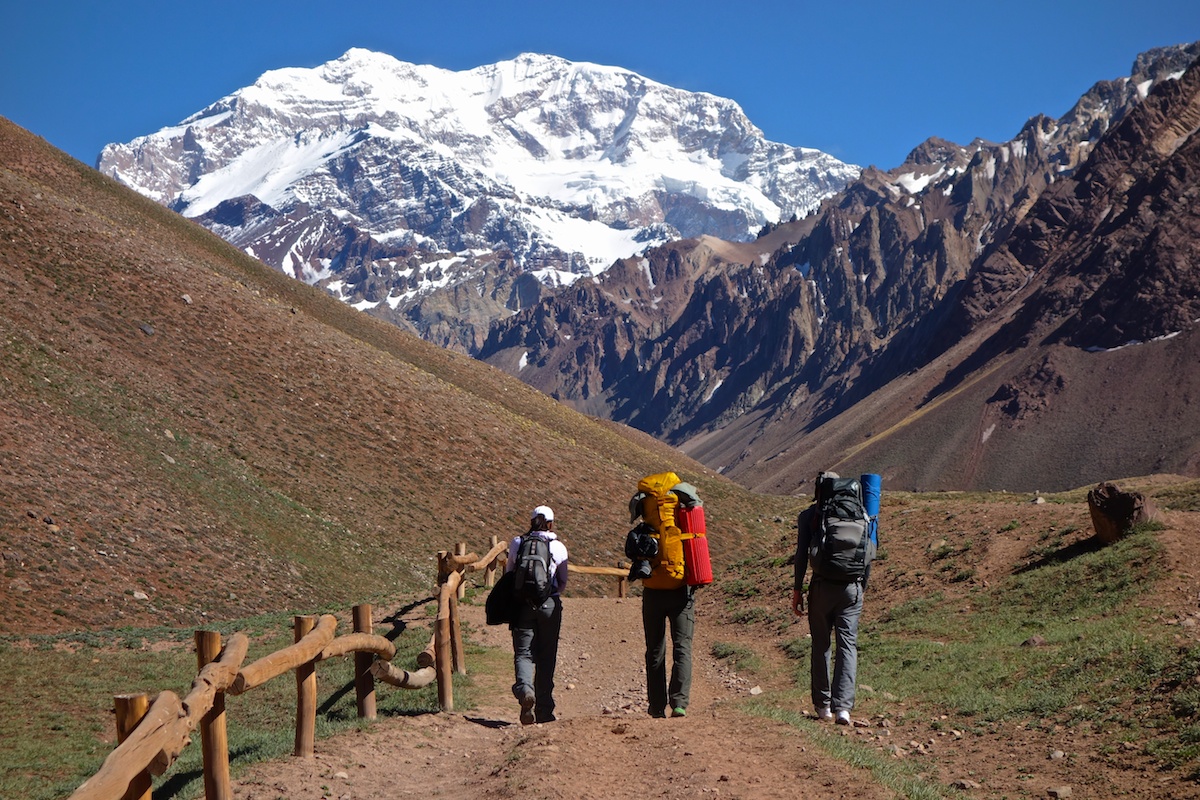 | | |
| --- | --- |
| Height (m) | 6957 |
| Duration | 7 days |
| Difficulty | Moderate |
| Continent | South America |
This is the shortest Aconcagua ascent program which is suitable only for those who have ascended above 5,500 the day before. Usually, this program is used as a supplement to  Ojos del Salado ascent or volcanoes of Ecuador ascent. Sometimes this program is combined with Kilimanjaro ascent, which is especially successful if the program included an overnight stay in the crater of Kilimanjaro. According our experience "Aconcagua in 7 days" program can be made even shorter by using a helicopter. Thus, it is possible to keep within 3-4 days instead of the usual seven.
In 2016/2017 season we combined expeditions so that you can acclimate by climbing Aconcagua (14 days program), and then climb the Ojos del Salado or take a full program of Ojos del Salado ascent (17 days), expanding it with 7 days ascent to Aconcagua.
The Aconcagua height is 6957 meters, which, despite the ease of the route, makes you think about a full acclimatization. Especially if you plan 7 days program. In this case, even Himalayan climbers won't be able to cope without acclimatization because of too long and too high-altitude route. Even Aconcagua base camp is located at the height of middle Base Camp in the Himalayas – 4350m. Selecting this program think carefully about where and how you will get acclimated, and then how quickly you can get to Aconcagua from any other mountain, as extra week in the plains may be critical to hemoglobin level in the blood. At the same time, you should not forget the mandatory medical examination on the Aconcagua, including measuring the oxygen. If the level seems insufficient to doctor, the only chance to get out on the climb is to write a refusal from National Park responsibility for your stay on the mountain. Simply speaking, in case of any evacuation you pay all costs by yourself, which proves to be very significant amount.
Aconcagua 7 days ascent program.
Day 1. Arrive to Mendoza (work day before noon or Saturday morning before 9.00). Obtaining permit to Aconcagua. Transfer to the entrance of the National Park (Laguna Horcones) and proceed to the Confluence (3300m, 2-3 hours). Camp.
Day 2. Long jump (8-9 hours) in the main base camp Plaza de Mulas (4350m). The path runs along the wide valley of Playa Ancha. Camp.
Day 3. The transition from Plaza de Mulas to Nido de Condores Camp (5600m)
Day 4. Ascent from the Nido de Condores (5600m) to Camp 3 (Cholera, 6000m).
Day 5. Aconcagua summit ascent (6957m), descent to Camp 3 (6000m).
Day 6. Reserve day in case of bad weather
Day 7. Descent to Plaza de Mulas Base Camp. Transition from the Base Camp to the Laguna de Horcones. Transfer to Mendoza. Recreation and farewell dinner.
The cost of Aconcagua ascent includes:
English-speaking guide throughout the whole program
Mountain guides. One per 3 people in the day of ascent
All transfers according the program
All accommodation according the program
Assistance in obtaining necessary permits
Meals according the program, only breakfasts in the cities
Mules for equipment and food from Puente del Inca (Los Puquios) to Plaza de Mulas and back. The personal baggage maximum of 20kg.
• The base camp at Plaza de Mulas (2 nights)
The food and fuel for the upper camps
First-aid kit
The cost of Aconcagua ascent doesn't include:
International flights
Climbing permit
Porters
Personal equipment
Additional costs associated with deviation from the program
Health insurance and expenses relating to evacuation in case of accident
Personal expenses (drinks, internet, telephone calls, etc.)

Any costs associated with program changes
Equipment for Aconcagua ascent
Documents
Valid passport
Airline tickets
Medical Insurance
Personal equipment:
Backpack. 50-60l
Sleeping bag, comfort temperature from -25C to -15C
Sleeping mattress
Trekking poles
Crampons, can be aluminum
Ice ax. Classic, on lanyard. Can be lightweight or combined with a ski stick.
Helmet
Harness
Carbines, 3pcs
Mug-spoon-bowl
Clothes and footwear:
Mountaineering Double or triple boots. Double: plastic or leather. Among plastic ones we recommend Scarpa Vega – seem to be the warmest of all double shoes.
Sneakers or trekking boots. Ideally, both. Sneakers for the track in the base camp, light boots – for acclimatization exit and base camp. Although you can have sneakers only.
Waterproof layer – Jacket + trousers. The industry offers a wide range of products from simple membranes 5000/5000 to products from Gore-Tex.
Fleece costume.
Thermo underwear layer – top and bottom
Thick and warm down coat.
Thick gloves.
Thin gloves.
Bandana (in addition to protection from the Sun in the valley can be used to warm your throat or face in the cold)
Cap.
Warm trekking socks for the day of the ascent.
Miscellaneous:
LED headlamp
Sunglasses
Ski goggles
Thermos – 1L. Preferably without a button in the lid.
Windproof mask for the lower part of the face (partly can be replaced with a scarf)
Gaiters
Sunblock and lip balm
Chemical heaters (not necessarily, but can be very useful)
Personal first aid kit
Elastic bandage and / or supporting bandage.