Elbrus from the South with oxygen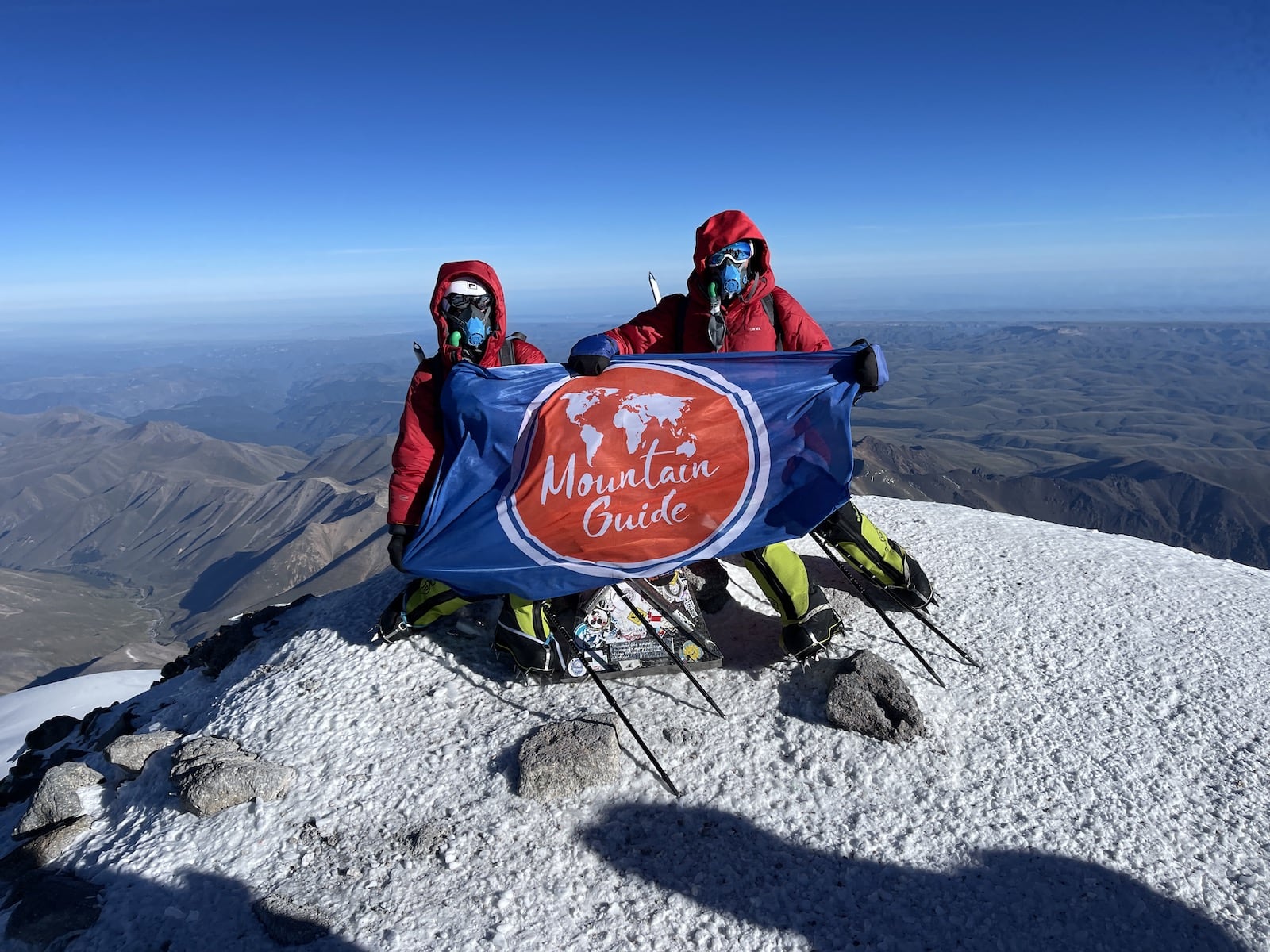 | | |
| --- | --- |
| Height (m) | 5642 |
| Duration | 2 days |
| Difficulty | Moderate |
| Continent | Europe |
1,250 $
Attention! In order to avoid disagreements between the participants, we always climb the higher, Western summit of Elbrus (5642m), and not the Eastern summit (5621m), like other companies.
An exclusive option that will help you climb one of the seven peaks – Mount Elbrus (5642 m) in just 1 DAY without acclimatization. One day off. As a rule, the non-stop mode separates us from the fulfillment of our dreams: deadlines at work, worries at home, and just eternal running somewhere. Stop and give yourself 24 hours to make your dream come true.
Climbing Elbrus from the south with oxygen.
Day 1. Early arrival at the airport Mineralnye Vody. (until 10:00). Transfer to Terskol settlement. We go to the rental office to rent equipment, move to the cable car, go up to the shelter, check in, get instructions, go to early sleep. Overnight at the shelter.
Day 2. Climbing Elbrus. Start at 2-4 o'clock in the morning by the decision of the guide. It is obligatory to use a snowcat for ascent and descent. Descent by cable car. Departure. 
Included in the cost of Elbrus climb:
Accommodation in a shelter. Number of nights according to the program.
All transfers according to the program.
Dinner on the first day, breakfast on the last day.
All necessary permits and registrations
Guides. Leader throughout the program.
Group equipment (oxygen equipment, rope, ice screws, walkie-talkie, satellite navigator, etc.)
Not included in the cost of Elbrus climb:
Single occupancy
Personal equipment
Guides, cooks, in case of program changes.
Ratrak (required).

Any costs associated with program changes
List of equipment for climbing mount Elbrus from the South.
Documents
Valid passport
Airline tickets
Voucher (a form, which was sent to you for obtaining visa)
Insurance
Personal equipment
Backpack
Sleeping bag
Ski/trekking poles
Crampons
Ice axe
Mustache insurance.
Helmet
Harness
2 Carabines
2 meters of 5 or 6-10mm rope
Clothing and shoes.
Wind and waterproof layer – Pants and Jacket. Gore-Tex, for example.
Fleece pants and jacket
Thermo underwear layer – top and bottom
Dawn jacket.
Mittens
Thick gloves
Thin gloves
Bandana
Warm hat
Underwear, socks and so on
Some warm socks for a summit day
Balaclava
Windproof face mask
Gators
Trekking shoes/trekking boots
Double or triple boots
Travel Accessories
Headlamp
Shower accessories, toothpaste, toothbrush
Sunglasses
Ski goggles
Vitamins
Thermos (1 liter, better without button)
Sunblock and lip balm
Personal medical kit
Spare contact lenses or glasses
Knee supports