Elbrus individually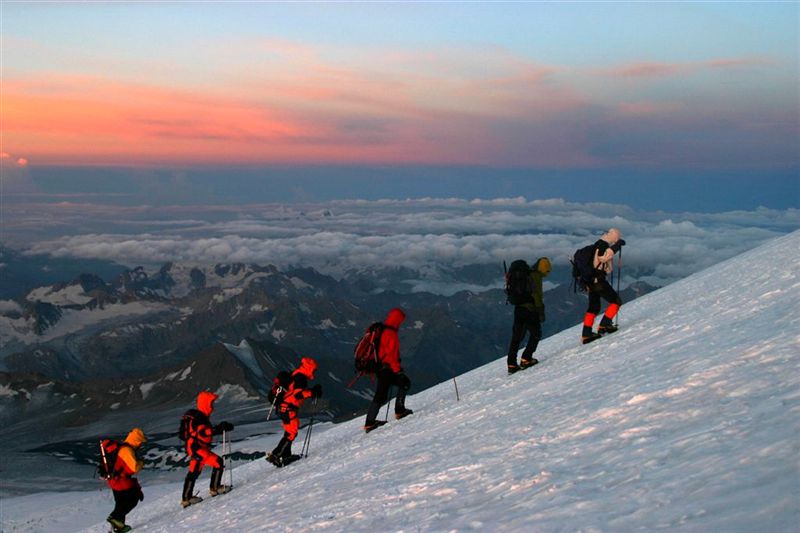 | | |
| --- | --- |
| Height (m) | 5642 |
| Difficulty | Low |
| Continent | Europe |
Why is it worth going to Elbrus with us? First of all, these are our and only our guides and we do not just write about it, but unlike many companies we are not afraid to show them to you. We do not have a limited number of ascent attempts, as in other companies (usually one). You can try to go on all reserve days of the program without paying extra for additional ascents! Excellent food in the hotel and at the shelter with fresh meat, fruits and vegetables. Our hotel is a comfortable hotel with large rooms and a cozy dining room. A nice and cozy shelter with a huge kitchen, individual beds in residential cars, bed linen (optional) and a clean toilet, our own equipment rental (the newest and largest in the Elbrus region) will provide you with a high-class and safe vacation. All expeditions indicated in the "dates and prices" section. We are also ready to organize a family vacation for your relatives so that no one gets bored while you are busy climbing.
If you do not want noisy companies and new acquaintances, you want to spend time only with your company, family, and perhaps solo, then the Elbrus option individually is ideal for you. You can use our standard logistics, but without adding members to your team. But the main charm of the Elbrus program individually is the opportunity to choose everything yourself: shelters and hotels to your taste, or maybe camping nights, dates, order of places of visit, complexity and pace. Our driver will meet only you and your team at the airport and do not have to sit while waiting for the others, they will bring you back, focusing only on your departure time. The guide's attention will be only yours, the chef will cook only according to the wishes of the group.
Elbrus is individually possible from any side: South, North, West and East. Any difficulty: 1 peak, 2 peaks, Traverse from the North, Traverse from the South, Cross from the North, Cross from the South, climbing from the West and East, the program can be of the duration that is convenient for you.
Write to us and we will definitely find an option that will remain one of the best memories for you!